Since opening in 1996, The Burren has built a reputation for offering an authentic Irish eating and drinking. Named after a region in County Clare where the village of Doolin is renowned for traditional Irish music, it is the venue's music that completes the experience. Yet The Burren's is just steps from the heart of Davis Square in the Boston suburb of Somerville.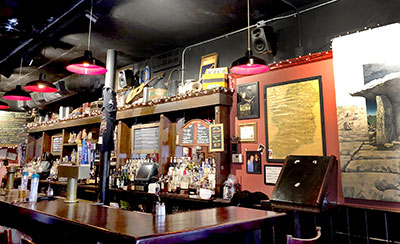 The stage at the rear of the restaurant brings in local, national and international acts playing everything from bluegrass, Americana, world music and jazz to rock, pop, indie, classical, children's shows and everything in between. But it's The Burren's front room and bar where you'd swear you were in Ireland. The music in this large yet intimate space is played around a table in the traditional seisiún format, attracting Irish performers from far and wide, including owner and musician Tommy McCarthy, who performs there with his wife and partner Louise Costello.
The same artists are among those artists who appear on The Burren Backroom Series of recordings, made in collaboration with local public radio station WGBH, and an outgrowth of A Celtic Sojourn, a weekly radio programme that features traditional and contemporary music from around Ireland and the rest of the Celtic world. McCarthy embodies both Ireland's musical aesthetic and its entrepreneurial spirit that's so deeply entwined with America itself. As one regular musician describes: 'there are no televisions in there; it's a place to go and connect with the music'.
Earlier this year, 11 Genelec 4030C self-powered loudspeakers were installed in the space, positioned nine feet apart along the walls leading to the performance area. The 4030C's Phoenix connectors made it simple to string the speakers together, and the self-powered speakers are also a perfect fit with a dbx Driverack ZonePro controller. (It's located near the centre of the room, so those working the bar can easily keep tabs on the room's volume.) And Genelec's Intelligent Signal Sensing ISS circuitry is a boon for a venue like The Burren, automatically turning the system off when not in use, saving electricity and expense.
McCarthy says the systems installers were well acquainted with Genelec speakers, part of what led him to buy them. 'They know what they're using in other clubs and what sounds and looks good, and they recommended we go with the Genelec 4030 speakers,' he says, noting that other leading Irish music venues have also chosen Genelec – the Swift Hibernian Lounge in New York's East Village.
Brendan Quirke, part of The Burren's management team, notes that the 4030s' sound is seamless in the room. 'The coverage is such that as you move through the room you never get the sense that you're moving from speaker to speaker – instead, it's one consistent, continuous listening experience wherever you are in the room. And the sound, the clarity, is incredible, night and day from what had been there before, filling the room but at a level that still lets conversations happen.'
McCarthy reckons that the musicians who perform there like it, too: 'They love these speakers and they let me know that,' he says. 'We had Brian O'Hanlon come up from Nashville, and he was raving about how good they sound. It took us a while to get round to putting in new speakers, but with the Genelecs, it was worth waiting for.'
More: www.genelecusa.com