Marking the beatification of Guadalupe Ortiz de Landazuri – the first lay member and female member of the Catholic church's Opus Dei body to be beatified – audio rental firm Delta Sound Spain employed a Bose Professional ShowMatch DeltaQ system to provide full-bandwidth sound and exceptional audience-area coverage for the Roman Catholic ceremony in Madrid. Cardinal Angelo Becciu, prefect of the Congregation of the Causes of Saints, represented the Holy Father at the beatification ceremony.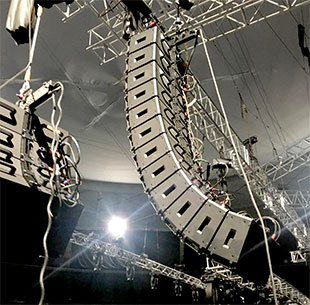 The ceremony took place at Palacio de Vistalegre, a multipurpose venue that originated as a bullring (and therefore has 270° seating); the space is usually configured for 9,000 attendees, but was reconfigured to accommodate 11,000 for this occasion. To meet the needs of the Vatican for the special event, a sacristy, chapel, press area and volunteer hosting room were specially constructed.
The multiple-array sound reinforcement system set up for the event included a total of 40 ShowMatch modules configured in two main 12-box LR arrays supplemented by 12 ShowMatch SMS118 bass modules for low frequency extension. Multiple out fill arrays were made of four additional ShowMatch modules. Additional ShowMatch loudspeakers were used as ground-based front fill, with two modules each mounted on multiple pairs of SMS118 subs.
'With such a high RT60 measurement and a very reverberant space, the challenge was to achieve high intelligibility in what is a notoriously difficult room from a wide range of public speakers, many with very soft voices,' says Jose De La Torre, CEO of Delta Sound Spain. 'I chose Bose ShowMatch because in reality there is simply no other system of that compact size where you can choose both the vertical and horizontal coverage in every speaker to achieve uniformity at all distances. You really have to hear it to believe it.'