The eighth Sundown Festival, promoted by U-Live, took place at the Norfolk Showground in Norwich over August Bank Holiday weekend, introducing a record attendance of 22,000 on Saturday to Martin Audio's Multicellular Loudspeaker Array (MLA).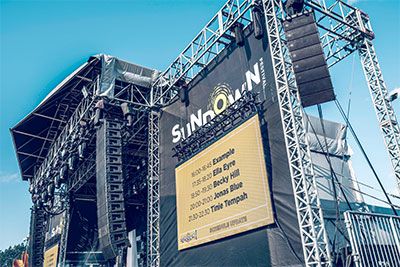 Rental partner Capital Sound had been brought in by production company Mark Ward's Proper Productions – their long-staning relationship includes Hyde Park's British Summertime season – with Rishi-Louis Gowry serving as Production Manager. 'We quoted to meet the spec issued in previous years and adjusted it accordingly,' says Capital Project Manager, Amy Newton-Smith. 'When noise pollution is a big issue then MLA is our go to system of choice.'
Noise propagation tests were duly conducted and throughout the festival, Capital comfortably managed to meet an offsite threshold of 55dB(A) while maintaining 98dB(A) at the mix position.
Deciding to dispense with delays as a more economic option – yet safe in the knowledge that MLA's coverage over distance can be optimised – Capital added a couple of extra elements to the main hangs which consisted of 13 MLA per side and one MLD (Downfill). Eight MLA Compact per side were flown as side hangs and there were eight W8LM as front fill. For low end, 15 MLX subwoofers were placed as five stacks of three, in a spaced cardioid array, with the centre one reversed.
Working alongside Capital crew chief, Richard Wonnacott, experienced system tech Dan Fathers and colleague Barney Cushman alternated between FOH and monitors, had managed to extract 2dB extra from the system: 'We programmed MLA for a throw of 160m in the optimisation but only ran it out to 120m. When we were doing the noise propagation I just had a non-audience area at the back and although it was capable of throwing a lot further, by shortening the throw using Hard Avoid [in the Display software] we were able to get it up to 98dB over 15 minutes.
'With regard the subs we were at a maximum of 110dB(c) for 15 minutes on the optimisation. We also applied Hard Avoid at the stage to avoid interfering with the monitors because the array was trimmed quite low with the extra boxes, only 2.5m from the ground to assist the throw distance, and this prevented any interaction with the monitors.'
Speaking of the success of the event, and Capital's deployment of MLA for the first time at this event, Gowry comments: 'Having worked a lot with Capital Sound it was a pleasure having them at Sundown as they always do a professional job. As for the PA, MLA really suited this type of music and we had no complaints from main stage offsite, while it was quiet both onstage and backstage. The production team were very pleased with the result.'
More: www.martin-audio.com