Dutch company TSR AV Audiovisual Interactions is the first rental company in the Netherlands to invest in the dBTechnologies VIO Line Array System.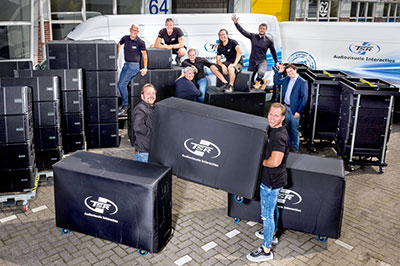 For more than 15 years, TSR AV has been a competent partner for concerts, major public events and corporate events as an event service provider active in the Netherlands. Reflecting customer preferences and in a move to be more flexible, the company has purchased several VIO system elements – VIO L212, VIO L210 and 1 VIO S218 modules.
'We see great potential for the audio system in the Dutch market,' says TSR AV Managing & Sales Director and founder, Han Wassink. 'As a long-standing dB Technologies user, we have great trust in the expertise and quality of the dBTechnologies brand. With the VIO system, dBTechnologies has taken an enormous step in technical development. And last but not least, we are very satisfied with the dBTechnologies R&D team.'
'One of the goals in purchasing the system was to show the Dutch market how excellent the quality and sound of dBTechnologies systems is,' adds Managing & Operations Director and co-founder, Martijn Groot. 'Not only as a company, but also as AV technicians, we are very satisfied with the quality of the VIO system. We are really proud to be the first company in the Netherlands to use the VIO system.'
The VIO L212 is dBTechnologies' full-size line array for large sound reinforcement applications. Despite its fully active design, the VIO L212 is one of the most compact and lightweight 2x12-inch line array systems in its class. The VIO L212 is an active three-way line array system designed for the largest live applications and offers 3.2kW RMS and 142dB maximum SPL. The L212 offers optimised dispersion and high headroom, as well as fast and easily configurable rigging solutions. All VIO modules are easy to combine and form a single cast line array system.
Integrated RDNet interface allows the systems to be operated with dBTechnologies' own Aurora Net software and adjusted according to the measurements.