Updating the audio systems in the Qingdao World Expo City (QWEC) conference venue has seen EZ Pro install Powersoft Quattrocanali 1204 and Quattrocanali 2404 DSP+D amplifier platforms to drive EAW Anna and Anya Adaptive loudspeaker systems, and Otto subwoofers.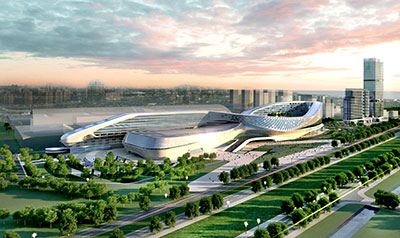 Located in the ancient China coastal city of Qingdao, the brief was for world-class audio-visual equipment to meet the needs of a variety of international and domestic high-end conferences. The EZ Pro contract focused on QWEC's Great Hall, which accommodates up to 1,500 people, has an area of 3,000sq-m, and can even be divided into two parts. With this forward-thinking in mind, Powersoft amplifier platforms were deemed the obvious choice.
'We hoped to create a destination that is, in terms of scale and technology, far ahead of anything else in Northeast Asia,' says EZ Pro General Manager, Zhao Guangjun.
All told, EZ Pro installed 46 Powersoft Quattrocanali 1204 amplifier platforms, as well as 23 Quattrocanali 2404 DSP+D. These versions of the Quattrocanali provide in-depth control and monitoring of all signals via ArmonìaPlus, so that the sound can be tailored to suit any customer's needs. 'Powersoft products offer a traditionally amazing sound quality and reliability,' says Alan Ho, senior VP of business development at EZ Pro. 'The Smart Rails Management (SRM) technology allows us to maximise the efficiency of the system and drastically reduce power consumption at any load and for any usage conditions. Its exclusive dampening coefficient compensation technology can also solve problems like line power loss that is caused by remote transmission.'
Accompanying EAW's Anna and Anya loudspeaker systems are VFR series loudspeakers and CXT coaxial ceiling speakers. Pan Acoustics PB steerable column loudspeakers and additional EAW cabinets were used in other areas of the complex for the dissipation of background music around the venue.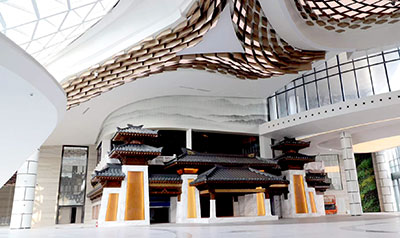 The Great Hall's audio system is served by an Allen & Heath dLive digital mixing desk and a CDM stagebox, with an Allen & Heath GLD digital mixer as backup and a Symetrix Prism for audio processing.
'We only had a short time period to complete a heavy task,' Ho says. 'The end-user had a clear idea with regards to the requirements for the audio system design, but the job was far from simple. We were able to draw on our experience of working on other conference centres to ensure the functional requirements were met.
'We implemented multiple measures such as hidden pipeline installation and the deployment of mobile equipment, so as not to clash with other QWEC upgrade work going on. I believe that EZ Pro was able to deliver fully, as did the audio system and the Powersoft products chosen to drive it.'