US comedian Carrot Top has been entertaining sold-out crowds at Las Vegas' Luxor since 2005, using the most lavish stage production in stand-up – which is now orchestrated with the aid of an Allen & Heath SQ-7 digital mixer.
'When I told my friends I was going to be a comedian, they laughed,' Carrot Top, aka Scott Thompson has quipped – quoting British comedian Bob Monkhouse – enjoying the longest running stand-up act in the US. While he is widely defined as a prop comic, his onstage act is aided by props only twice during his show. In between he does straight stand-up, and that's where the show relies heavily on elaborate sound design.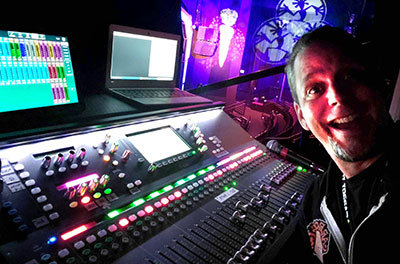 'Hardly a few seconds go by without something being punctuated by a snippet from a popular song, a cartoonish screech, a blast of confetti, or some other effect,' says Thompson's production and tour manager Dan O'Leary, who has been with the show for 23 years. 'This is stand-up scored like a musical when it comes to our sound.'
O'Leary found himself in a position at front of house not all that long ago where he was exceeding the capacity of his aging console. Casting about for a solution, he chose an Allen & Heath SQ-7.
Beyond the immediate gain in sonic quality the SQ-7 offered, O'Leary notes that having Allen & Heath's SQ MixPad app, which provides offline editing and online wired or wireless control of his SQ-7's main mixing functions, was a necessity, not a luxury.
'The SQ-7 and I reside in a tiny little room off to the side where I have to view the show through a small window,' O'Leary explains. 'I can only manage the basics from the board in there. With SQ MixPad I simply walk out into the room and handle the fine-tuning. There have been countless times when I'm onstage and something pops-up as well. With the app I use my phone to link to the desk and make a change.'
The scope of Carrot Top's show has rock dynamics. There are wedges and a subwoofer onstage, and an endless stream of cue lines to hit. 'I'm using 15 of the SQ-7's outputs,' O'Leary adds. 'We record every show with the desk too. This console is perfect for Carrot Top's experimental spirit. I keep building and refining our control right along with his act.'
More: www.allen-heath.com