KV2 Audio has provided a range of EX Series loudspeakers to equip the Jerwood Vanbrugh and Gielgud theatres at the UK Royal Academy of Dramatic Art (RADA). Part of the partnership will see KV2 also provive masterclasses on sound design and the use of point-source technology in a theatre environment.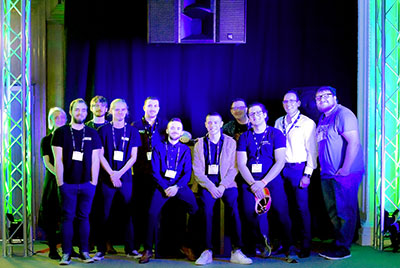 'These partnerships are the life-blood of hands-on training for our students,' says RADA Head of Sound, Steve Mayo. 'I am very eager for our sound students to have the opportunity, not only to work with high quality, modern equipment, but also to meet the people behind it. 'The support we've had from KV2 has been invaluable in paving the way for this partnership, from our initial conversations at ABTT in June through to them organising for all our students to have a proper demo of the full KV2 range at Plasa last month.'
Mayo recalls that his decision to approach KV2 was sparked initially by theatre sound designer Richard Brooker, when he came in to talk to the students about working on musicals and mentioned that KV2 had become an important part of his designs.
He was further prompted by the fact that Autograph Sound (with whom RADA already has a close relationship) are an important KV2 user, a fact endorsed by Autograph sound designer, Avgoustas Psillas: 'We were lucky enough to get Avgoustos in to mentor to our sound design students when we were preparing for our musical production during the last summer term, and he was very complimentary about KV2, just as Richard Brooker had been. I was able to meet Tom Weldon from KV2 at ABTT for an initial conversation and arrange a visit for him to RADA so that he could see for himself the level and quality of training we offer our students.'
Following the visit, Weldon comments: 'We're very keen to work with the technicians, engineers and designers of the future and feel that we can contribute to offering them a solid grounding in modern theatre techniques with equipment that is actually in use in productions across the West End and Broadway as well as on national tours. We're proud to be able to make a positive contribution to the education of future generations.'
'RADA does an amazing job in terms of the amount of productions we do,' Mayo agrees. 'Over the course of this academic year we will mount thirteen RADA productions across three venues as part of the Technical Theatre and Stage Management course in collaboration with the 3rd year Actors training. The partnership with KV2 hugely improves our FOH systems for both the Jerwood Vanbrugh Theatre and the Gielgud Theatre and is incredibly exciting for the students and the productions to be using state-of-the-art equipment for their learning.'
More: www.kv2audio.com