Source Distribution has been appointed exclusive distributor of LOCI extendable, interlocking and durable wooden desktop stands in the UK and Republic of Ireland.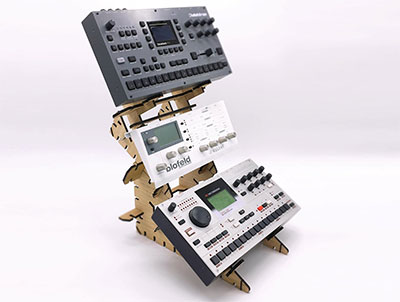 Established in 2018 by British designer and musician Steven Holmes, LOCI addresses a major issue for electronic music studio owners – arranging desktop equipment so that it is accessible, ergonomic and usable. LOCI designs can be combined, interlocked and expanded both horizontally and vertically, allowing users to expand their LOCI collection to accommodate multiple pieces of equipment in an extremely compact footprint.
LOCI stands are able to flexibly accommodate equipment from full-size keyboards, wooden modular synth cases, to drum machines, desktop synthesisers and audio interfaces, as well as laptops, speakers and other devices. LOCI stands can be positioned at multiple angles to ensure the most ergonomic working environment, and are made from responsibly sourced Oak in Sheffield, UK.
'We live in an age of amazing, compact desktop devices, but crucially limited desk space to put them in,' says Source Distribution Brand Manager Alex Theakston. 'If something is not easily accessible, it often doesn't get used. LOCI offers a wonderful solution to this problem – while allowing us to stack gear on top of gear. And best of all, LOCI is not device-specific. So the stand you buy today will be just as useful ten years from now.'