Expanding its capabilities for dedicated audio production and broadcast of sports and music events – particularly large-scale sports tournaments such as the forthcoming 2022 Winter Games in China – Beijing Television (BTV) has turned to Lawo's IP expertise for its Electronic Field Production (EFP) requirements.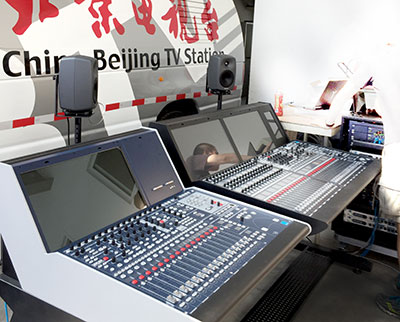 For its first purely IP mobile EFP system, the broadcaster purchased a third-generation 32-fader mc²56 production console with 288 DSP channels as main desk, along with an mc²36 All-in-One console with 16 faders as backup, plus five A__mic8 and seven A__digital8 AoIP stageboxes from Lawo. The consoles provide 512x512 (mc²36) resp. 8196x8196 (mc²56) routing capacity with redundant router boards and integrate Waves SoundGrid, additionally providing both Madi and IP Ravenna/AES67 compatible interfaces.
BTV's move to full EFP operation comes shortly after China Central Television (CCTV) took a further step towards an all-IP production environment with the recent installation of three IP-based Lawo mc² consoles. As with the CCTV project, the system integration was handled by Lawo's partner NDT, who also designed the system using the typical spine-leaf IP switch network involving a couple of Cisco switches. The project began June 2018 and was successfully completed in July 2019.
BTV has been building confidence in Lawo consoles since 2008 and convinced by their reliability and redundancy options, especially in a critical environment such as live broadcasts and sports productions. In recent years, BTV has employed a Lawo mc²66 digital console in its OB van – the first 3D OB Truck to be commissioned in China – which has been employed to broadcast major sports such as CBA (basketball club matches) and China Super League football matches.
This installation is the first IP audio mobile system within BTV, and the second in the PRC, using Lawo mc² series mixing based on full Ravenna implementation. 'Lawo has proved to be still the most reliable and stable audio console in base-band time and now IP as well,' commented one BTV A1 sound engineer.
More: www.lawo.com