Portugal's first private television station has taken advantage of its relocation to new studios to review its operations and invest in new technologies including adopting IP. But while SIC made many changes to its workflow, it the broadcaster has remained loyal to the intercom provider that it has been using since launch.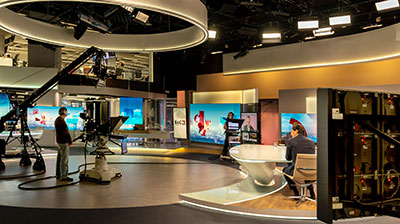 SIC began broadcasting from its studios in Carnaxide in 1992. After nearly three decades at the same site, the decision was made to move to a modern production centre located at the Impressa Group headquarters in Paco de Arcos on the outskirts of Lisbon. The move allowed the broadcaster to review its operations, modernise its technology and step up to IP.
The €10m project has seen SIC make the move to high-definition production as well as shifting to video-over-IP under the ST-2110 standard. Underpinning this technical shift and ensuring clear communication is a new RTS intercom system.
The solution installed by Pantalha and SIC, with support from RTS, is based on an Adam full-frame matrix. KP-5032 and KP-3016 keypanels have been installed in various locations. Completing the IP signal chain is a DECT-based Roameo wireless intercom system including AP-1800 access points and TR-1800 beltpacks.
The timescale of the installation was the most challenging factor, as SIC needed to vacate its old building to meet an extremely tight deadline.
'The new studio is all IP-based, so the customer wanted to have an intercom system that was also IP-based,' explained Bonifácio Ribeiro, CEO of local RTS partner, Pantalha. 'SIC is a long-time user of RTS, and has been a customer since beginning broadcasting. With the Omneo IP network architecture providing the IP backbone to the system, it was possible for it to stay with a brand it trusts. RTS leads the industry when it comes to IP solutions. Every component is IP-based and fully compatible with Dante and AES67 control as well as all common standards and protocols.'
Following the move, the RTS solution has proved itself. 'It was very easy and fast to deploy,' Ribeiro reports. 'Everything worked first time. RTS is a very strong player in the intercom business and SIC will continue to use RTS for a long time into the future,' he adds.
See also:
Portugal's SIC implements Lawo IP production
More: www.rtsintercoms.com