With more ambitious arena and touring projects in its sights, Croatia's IVAS Group has invested in an L-Acoustics K1 line array system.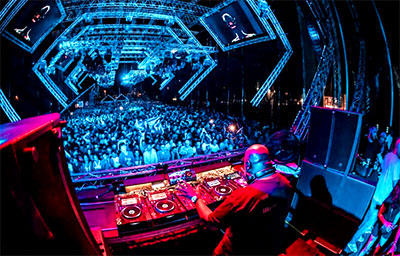 Founded in the 1990s, International Visual Audio Solutions (IVAS) started as a family-owned A/V installation company in Croatia's capital, Zagreb. The company expanded into the PA rental business in the early 2000s, gaining a large share of that market, and today is one of Croatia's most prominent PA companies, remaining at the forefront of the market through consistent investment in equipment and staff.
'We had targeted and secured several festival, tour and arena tenders this season involving international artists, and it was time for us to invest in a new top-flight PA system to meet rider expectations and technology demands,' explains IVAS Group MD, Lovro Ivas. 'L-Acoustics has always been one of the leading brands in professional audio, and for well over a decade, it has been an industry standard, and a stalwart on international riders. Furthermore, we have always admired the company's technology and distinctive sound, so it was the first, and most obvious choice for us. The K1 will give us a rapid and healthy return on the investment and help us realise our expansion ambitions.'
IVAS purchased an L-Acoustics FOH and monitor speaker system comprising 48 K1 reference and 24 Kara compact line source enclosures, four ARCS II cabinets and 12 X15 HiQ stage monitors. The subwoofer complement includes eight K1-SB, 24 SB28 and six SB18 high-powered subwoofers. Two Syva colinear cabinets paired with two Syva Low round out the loudspeakers and subs, with everything powered by LA12X and LA4X amplified controllers.
As soon as the K1 system arrived in the warehouse, it went straight out supporting visiting touring artists including Tom Jones, Enrique Iglesisas, UB40, Soul II Soul and Il Volo, as well as festivals including the Resistance Stage at Ultra Europe and the CMC festival.
'L-Acoustics was very supportive during the purchase, offering training for our staff to ensure we gained the maximum potential from the new system,' Ivas says. 'The K1 has enabled us to become even more competitive in the touring market. We are already finding that contracts for international artist are easier to win with it on our inventory, not just because of its excellent brand reputation but also the versatility of the system, which offers a multitude of configuration options for every application. Over the next 12 months, we plan to invest in 24 additional K2 cabinets and accompanying amplified controllers so that we can capitalize on the existing investment with even more comprehensive and scalable FOH and monitor coverage.'