Adopting an innovative modular approach has allowed Polish OB rental company AZAF to be able to adapt its OB van to meet the specific needs of users from across the production industry. In such a dynamic environment, the flexibility provided by its RTS Odin comms system has been an important factor in ensuring the effectiveness of AZAF's business model.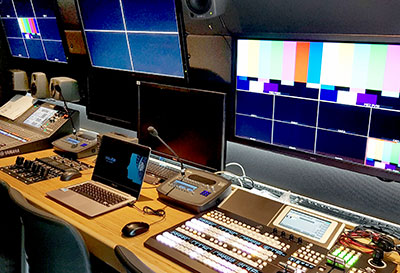 AZAF services clients with bespoke rentals ranging from video- or audio-only set-ups up to full production environments, with no demand too great and an emphasis on high-quality equipment. To meet its intercom needs, AZAF became the first Polish OB rental company to offer Odin, initially acquiring a 16-port matrix. Having made this first purchase, the company was impressed with the demand for Odin from its customers. Thanks to the flexibility of the platform, it was subsequently able to expand its offering to 32-ports, ensuring it could meet customer demand.
Studiotech Poland engineered the vehicle according to the design specifications of AZAF CEO Jacek Markowski, with the Odin matrix supplied by Pawlaki Pro Audio. AZAF's system facilitates the operation of four to eight cameras, and also includes four RTS DKP-3016 keypanels and a Roameo wireless intercom system.
'This is a small van but it is a unique project for the Polish market,' notes Pawlaki Pro Audio owner, Sebastian Pawlak. 'As soon as Odin was introduced, it became the obvious choice due to its size and flexibility.'
'This will guarantee us modernity and flexibility, which fits in with the concept of our new vehicle,' agrees Markowski.
Following its introduction, the OB vehicle has been constantly busy with a variety of customers using it for high-profile events such as speedway matches, horse races, reality TV shows, eSports and film.
More: www.rtsintercoms.com