Global Production's OB coverage of the European Under-21 soccer championships in Italy saw the Turin-based company deploy its OB-8 truck to cover the tournament – the largest and most recently-equipped member of its fleet. In addition, OB-8 is also Global Production's first truck to feature RTS intercoms.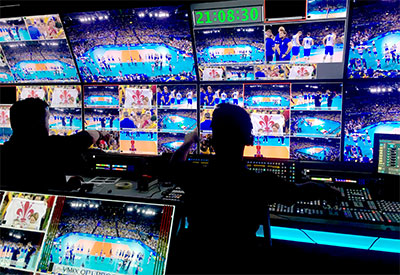 'We have two other vehicles that use different systems,' says Global Production OB Manager, Luca Manfredi. 'But when we came to making the technical choices for OB-8, we could see that the RTS system was superior.'
As a result of this decision, the large and modern production environment of OB-8 features an Adam intercom matrix with 50 KP-series keypanels optimised for use with Omneo IP-networking technology – 35 KP-5032 and 15 KP-4016.
The full-sized Adam matrix supports up to 272 ports. It can be configured to form multi-frame systems of up to 880 ports and supports the widest variety of audio interface cards in the industry. 'We opted for the Adam matrix due to the power of the available ports and the compatibility with Dante and AES 67,' explains Manfredi.
The next generation of European soccer talents was on show, as Spain claimed a fifth title by beating Germany in the final in Udine. The gameplay of Global Production and its RTS-equipped OB-8 matched that of the players on the pitch.