Australian sound design, equipment hire and production services company LSS Productions recently acquired 18 Core 6066 Subminiature Headset Microphones from DPA for a production of Stephen Sondheim's 1984 musical, Sunday in the Park with George.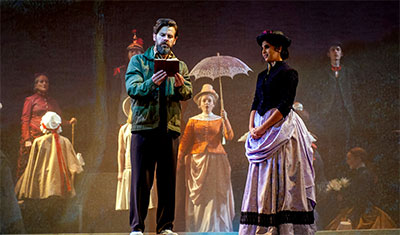 Based in Melbourne, LSS Productions initially wanted the headsets for the production on account of their being quick and easy to fit, but the units are now part of the company's permanent stock it and are being used on other productions including the Australian Premier of Andrew Lloyd Webber and Ben Elton's musical The Beautiful Game.
Bringing high quality sound to musical theatre and events is a key reason why Marcello Lo Ricco established LSS Productions in 2001. With his background as a performer and musician, plus 20 years' experience as a sound designer for Broadway style shows with orchestras and large casts using radio microphones, Lo Ricco was drawn to the performance of the DPA 6066, and placed an order with DPA's Australian distributor, Amber Technology.
'The 6066 headset is a lot more discreet than earlier DPA Headsets, which is why I felt it could work well for Sunday in the Park with George,' he explains. 'We wouldn't get away with the look of using a bulky headset, and on top of that the new gold colour of the 6066 mic boom blended really nicely into light or dark skin tones. Also, the new 6066 headset has a detachable cable, which is a great advantage because it means we can replace it if it is damaged.'
Drawing inspiration from Georges Seraut's painting A Sunday Afternoon on the Island of La Grande Jatte, Sondheim's musical is one of only nine to have won a Pulitzer prize for Drama and is widely considered one of the smartest musicals ever written. Its recent staging in Melbourne was directed by Dean Drieberg and Sonja Suares and produced by the Watch This theatre company at three different venues, ending at the Southbank Theatre.
'The show spent one week in each venue, which is quite a quick season for a show of this size,' Lo Ricco says. 'It's a business model that Watch This has been doing for a few years but this is the first time LSS Productions has been involved with a full show season with them.'
Because of time restrictions, Lo Ricco chose not to use lavalier microphones on the cast as it was quicker to fit headset microphones. 17 cast members were fitted with 6066 headsets and one - Nick Simpson-Deeks who played George – was fitted with a DPA 4061 miniature microphone because this worked better with his large beard.
'The 6066 headset is made from a thinner, more flexible material compared to the older style headsets and it seemed to be more comfortable for the cast to wear for longer periods of time because it felt lighter on the head,' Lo Ricco says. 'The ear attachments are more flexible and mouldable, too. Also, in our third venue, we were operating in a smaller black box space with speakers closer to the performers. Using the headsets made this manageable as there was sufficient headroom for 18 microphones, which at some points during the performance were all on at the same time.'
Sunday in the Park with George won positive reviews during its run, and was particularly praised for its superb band, thoughtful orchestration and Marcello Lo Ricco's crisp sound design. Lo Ricco has also recently worked on Les Misérables, Jekyll & Hyde and Kinky Boots (National Theatre, Melbourne), We Will Rock You and Strictly Ballroom (Princess Theatre, Tasmania) and Australian written musical theatre shows such as NED – A New Musical (Ulumbarra Theatre, Bendigo), Flowerchildren – The Mamas & Papas Story (Comedy Theatre, Melbourne) and PARIS – A Rock Odyssey (Melbourne Recital Centre). As an equipment hire and production services company, LSS Productions also handles projects for educational institutions (including primary, secondary, universities and performing arts schools), performance venues and corporate business.
Over the past ten years, LSS Productions has built up a stock of DPA microphones including headsets, lavaliers, 4099 instrument microphones and some 4091 microphones which it uses for measurement purposes and to tune and align speaker systems.
'When I first started using DPA what I liked was the sound quality of the microphones, which was a noticeable improvement on what we had been using previously,' Lo Ricco says. 'They sound natural with a nice bright top end which isn't harsh sounding. The Microdot adaptors are reliable and we use a few different types to match our Sennheiser and Shure radio system models. The new 6066 Headsets are being used with our Shure Axient Digital radio systems and I've been very happy with their performance. I'm keen to add some smaller lavaliers to our inventory so I will now be looking at the other products in the new 6000 Series.'
More: http://lssproductions.com.au
More: www.dpamicrophones.com