Even though he bought a classic 36-channel Audient ASP8024 mixing desk on eBay while living in a tiny flat in New York in 2015, Chris 'Monty' Montgomery claims that he had 'zero plans of opening a studio'. Somehow, however, that battered, unloved Audient desk has become the striking centrepiece of a brand new enterprise in Los Angeles.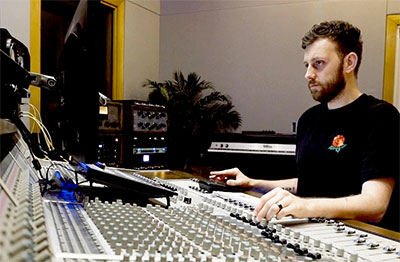 According to the eBay description, the desk was in 'perfect working condition', but when he came to open the crate, Montgomery found this could not have been further from the truth. 'Audio wouldn't pass through any channel for more than a few seconds before dropping out and almost every knob and switch was unusable. I cannot describe how upset and disappointed I was,' he said. 'The desk had clearly been severely mistreated.'
Unperturbed, he spent all his spare time on it, poring over schematics and teaching himself electronics. 'In time, I was able to follow a signal through the PCB and got better at pinpointing faulty electronic components.'
He was thrilled to discover that the preamp/tape return modules from the new ASP8024 Heritage Edition would fit inside his legacy console. His wife's grandfather's woodshop provided the materials for new side cheeks and meter bridge. 'The results were incredible. I love how the console is now fully encased in this beautiful cherry wood, which has some real family history. It gives a lovely vintage look to the board.'
In the meantime, he had decided to settle in LA, having partnered with his ex-boss from New York's Dubway Studios to find premises for a west-coast studio space. 'Owning a 10ft-long analogue console had no place in my life,' he recalls. 'Fast-forward almost two years, Al and I are opening Dubway West. And it just so happens that I have a beautiful board waiting to serve its purpose.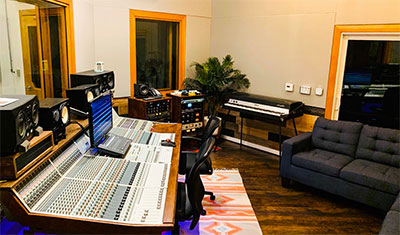 'I'm delighted to report that it's now in a beautiful home and fully functional,' he continues. 'It looks great and does its job incredibly well,' he says, keen to acknowledge those who've helped him along the way – even overseas. 'Throughout the entire process, Audient has been so incredibly helpful. I want to mention how especially grateful I am to Technical Support Manager, Daniel Mills. I bugged him daily and he managed to troubleshoot every issue correctly over the phone. He's quite a genius.'
In spite of his earlier reluctance, Montgomery is more than pleased with how everything has come together: 'This console is genuinely one of a kind. It's a hybrid between an original ASP8024 and a Heritage Edition console. No other ASP8024 in the world has this cherry wood finish. It has become the centre of my entire studio workflow,' he says. 'Since moving it into the new studio, it has been put through its paces with extensive string sessions, full rock band sessions and acting as a beautiful summing mixer on almost all of our projects. There are very few days in any given week that the board does not get used extensively.'
Indeed, one of his first projects he mixed on the console was a televised performance for Lady Antebellum, and since then he and his Audient have worked with OneRepublic, JessieJ and Hailee Steinfeld and on a host of TV broadcast music. 'It's pretty safe to say that our first few months have been very busy and it doesn't look like things will be slowing down any time soon.'
More: https://audient.com