Alongside the equipment from Chauvet Professional, Renkus-Heinz and Ashly Audio, distributor V Hypersound & Light called on a number of ARX products including the Pro-DI active direct box and MSX-48 microphone splitter for a major renovation of the Nicosia Municipality Theatre recently.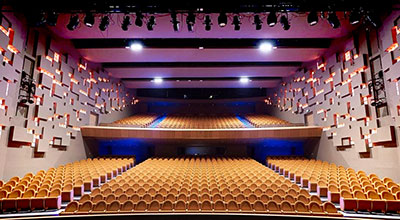 Handpicked for this prestigious project, V Hypersound & Light handled a turnkey implementation of theatre lighting, theatre sound, a music and announcement system, ring intercom system, stage engineering (Upper /Lower), acoustic shell, orchestra lift, stage managers desk system and a CCTV system for the stage.
The MSX-48 16-channel mic/line splitter has proved to be a popular choice for theatre and theatre productions including Wicked The Musical in Melbourne and Opera Equilibre in Switzerland, and as a 'must-have' product in the inventories of audio production companies around the world. Similarly, the input flexibility offered by the Pro DI has made it an essential part of the audio toolkit.
Opened in 1967 but derelict between June 2008 (when its roof collapsed) and February 2017 (when the rebuild started), the Nicosia Municipality Theatre now has a seating capacity of 1,000 – making it the largest theatre in Cyprus. The theatre was officially opened in June 2019 by President Nicos Anastaiades with its first public performances in September for the international Cypria festival and the Nicosia festival immediately afterwards.