A Montarbo Palcoplus line array system has joined the audio inventory at Indian pro audio/lighting rental company, Swapna Sounds.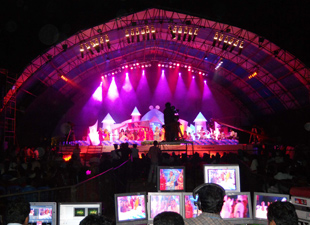 The company is billing it as 'the system that could make a revolution in the rental market in India by its technology'.
Swapna Sounds used the new system for the Jaihind television show, where 16 RA16 cabinets were configured as left-right hangs of eight RA16 per side, with eight RA1815 subwoofers flown beneath, placed four per side. All the boxes were driven by a Montarbo PLM6800 powered controller. The audio for the show was mixed from a Yamaha LS9 console.
There was an audience of 35,000 for the show, who were addressed without using any delay speakers. Prior to the show, there was a demonstration of this system to local dealers as well as to the professional industry which prompted 'great feedback'.
The system was supplied by Montarbo's exclusive distributor Sound Land, based in Chennai.
More: www.soundland.in
More: www.montarbo.com
More: www.palcoplus.com