When the Hudsonville, Michigan, Evergreen Ministries church previous sound system was installed the design followed very conventional thinking. However, with the worship space residing in a mid-sized square building with largely metal construction that created reverberation problems, speech intelligibility and musical articulation were a frequent challenge.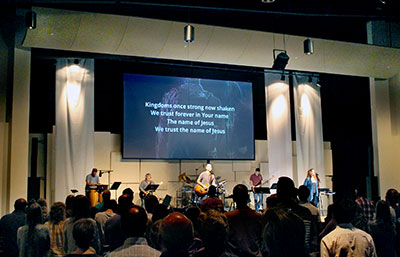 'They had a pretty typical flown PA, but it wasn't really the kind of system they needed for a space like this,' confirms Todd Billin, design/sales engineer at A/V systems integrator Parkway Electric & Communications, which has a long history of working on sound and video designs with houses of worship.
The solution to Evergreen's problems came in the form of an L-Acoustics Syva colinear system – perfectly suited to medium-throw applications like the 550-seat sanctuary. The Syva system designed and installed by Parkway comprises a pair of Syva and Syva Low enclosures on each side of the half-moon stage, plus four Syva Subs that are installed underneath the stage, two per side. In addition, an L-Acoustics X12 short-throw loudspeaker is flown above the centre of the stage to heighten speech intelligibility, while four ultra-compact 5XT are arrayed across the lip of the stage as front fill. Three L-Acoustics LA4X amplified controllers power the entire loudspeaker system.
Billin says the Syva system not only solved the problems caused by the reverberant space, with its attendant speech-intelligibility issues, but also provided a much more musical sound system for the church's worship music. 'In particular, the Syva Sub and Syva Low really defined the low end for music, something the congregation had never experienced before,' he says.
Syva also cured another problem that the church was not necessarily aware it even had: 'All of the components in the old sound system were flown, and they had to hang them in such a way as to avoid creating sightline problems, but that wasn't necessarily the best configuration for the sound,' Billin explains.
The Syva system, on the other hand, brought the sound down to stage level, which also brought deeper worshipper engagement with it. 'Before, the sound was kind of disembodied; it wasn't coming from the stage,' he says. 'Now, the sound from the stage is connected to what's taking place on the stage. It was a huge jump in engagement level.'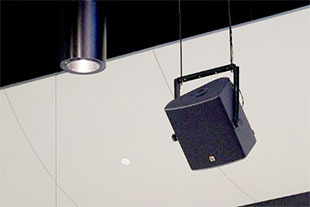 Adam Locker, Evergreen Ministries' Director of Operations & Worship, agrees that the Syva system has actually increased engagement during services, and says he and the congregation love the way the search for a new sound system has turned out. But it wasn't without its anxieties…
'The Syva system sounds fantastic, and it looks just as good as it sounds, but in the beginning I was concerned that after all this time of having a big, rock concert-type PA system up near the ceiling that people would wonder if something like the Syva could really deliver the same amount of sound,' he says. 'But it does, and it delivers it with so much more quality and presence. We were all surprised that something so slim and sleek could give us this kind of coverage.'
Billin also says the Syva's gain-before-feedback characteristics allow the church's vocalists to be positioned towards the front of the stage: 'That, combined with the use of in-ear monitors, means the singers and musicians now have a much greater connection to the sound on stage,' he elaborates. 'All of that makes a huge difference in connecting with people in the seats. Syva really made a difference for Evergreen Ministries.'