With a centralised platform based on an all-IP infrastructure that allows the sharing of resources over multiple remote locations, such as production facilities, studios and external venues, global media technology giant NEP Group has established from Merging Technologies' Anubis interface as a vital part of its operation.
The efficient operation of IP installations depends on the careful selection of small but vital components – in this case, NEP recently adopted 50 Anubis interfaces.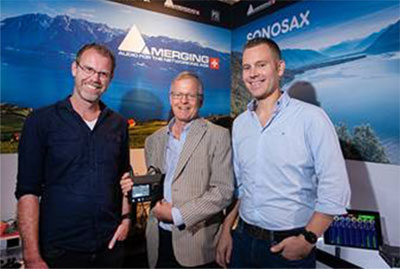 NEP Master Control Centre is located at Hilversum in the Netherlands, and this is where technical decisions are made. NEP's Lead Solutions Consultant is John Guntenaar and his mission was to try to find one box that served a number of functions and provided the right features for NEP's Virtualized Editing Platform – it had to be capable of working in an ST2110 environment and be able to receive and transmit AES67 streams. It also needed to provide a way to listen to the streams on headphones or speakers and be able to control the volume.
A valuable bonus of Anubis was having onboard mic preamps for voiceover recording. The ability to handle a large number of streams that can be increased by adding additional Merging I/O was also nice to have, as was the fact that Anubis functionality is controlled by software that can be updated, allowing for development and expansion in the future.
Additionally, Anubis is a robust desktop unit that looks rather neat: 'I spent a lot of time looking at various units that did part of the job, but my goal was to find a one-box solution if at all possible,' says Guntenaar. 'I was intrigued when Jasper van Eif from MSV told me about Anubis. When we checked it out, we were really delighted that it did so much and that Merging was ready to make some small customisation to tick yet more boxes for us.'
'Our original idea was that the Anubis Monitor Mission would appeal more to an existing client base that would already have other Merging I/O,' says Merging President, Claude Cellier. 'What has surprised us is how quickly a number of major broadcasters have realized that Anubis is the perfect device for remote and centralised production in a complex IP environment. It is not often you can say that you are delighted to be proved wrong.'
Sales Director at Merging's local distributor, Maarten Sound & Vision and the recipient of this significant order, Jasper van Eif has been involved in selling Merging products for many years: 'Anubis is an exciting product because it is not only very affordable, but we discover more applications every day,' he offers. 'It is already remarkably powerful and extremely versatile for such a small box, but the really interesting element is the potential for future software development to manage different "missions". It is the salesman's dream product.'