Stage Audio Works has concluded a string of sales of dBTechnologies' VIO series of powered line arrays and subs across South Africa and Namibia.
With a range offering dual 8-inch, 10-inch and 12-inch tops, paired with single, double or triple 18-inch subs, VIO offers a fully powered line array solution for large sound reinforcement applications. The VIO L210 dual 10-inch cabinet has proved the most popular amongst the Southern Africa community.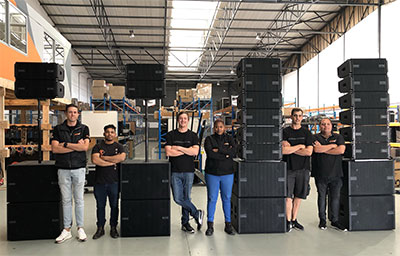 Stage Audio Works has sold L210 rigs to DEM Equipment Hire and Sonic Sound in Johannesburg, Sound Motion in Rustenburg and Atlantic Audio in Walvis Bay, Namibia. AVS Hire from Nelspruit built on its L210 tops purchase with additional S218 and S118 double and single 18-inch subs as well.
'There are many events where the very top brands are not required as per technical riders and the VIO range can do the job 100 per cent,' says Stage Audio Works' Willie Kok, who sold AVS Hire its system. 'The price point is very good value for money which means that the return on investment is very attractive.'
Meanwhile, Kilowatt AV in Cape Town opted for a slightly smaller option with the most recent addition to the VIO family in the region, adding a double 8-inch L208 rig to its portfolio. 'You are getting a compact system but it can still deliver the punch required for the smaller to medium sized outdoor and indoor events,' says Jerome Gideon, who handled for Kilowatt AV's purchase. 'Equally, companies can always add more cabinets when they need to grow the size of a PA.'
The popularity of the line array encouraged Stage Audio Works to host a VIO series open day in September in Johannesburg, where representatives from the Italian manufacturer joined its South African partner to demonstrate the capabilities of the VIO family.
More: www.stageaudioworks.com