Curated by BBC Radio 6 DJ, Gilles Peterson, his Bronswood Recordings label and Worldwide FM, the We Out Here Festival was staged for the first time in rural Cambridgeshire, UK, during August. Taking place across four-days, the family-friendly festival showcased an eclectic line-up of underground artists and DJs, who were served by Allen & Heath mixers at FOH and monitors.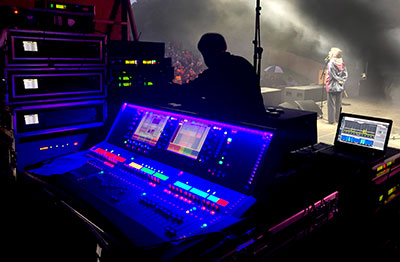 Supplied by Glasgow-based A/V production company A-Live Sound, five A&H dLive and four SQ systems ran FOH and monitors respectively across seven stages. 'I chose to invest in dLive and SQ as they're the best-sounding consoles on the market right now,' says A-Live Sound Director, Iain Mackie. 'With dLive specifically, unlike some other manufacturers, it has endless high-quality plug-ins – especially the Hypabass FX and Dyn8. It's also incredibly easy for visiting engineers to just rock up and mix the band as the whole system and interface is very intuitive and well laid out.'
The main stage featured two dLive S7000s and two DM64 MixRacks paired with three Dante cards for virtual soundchecks, multitrack recording and channel splits between consoles. 'This was my first real gig on the S7000 and while I'm used to running festivals on competitor consoles, this event will be a particular favourite for a long time. dLive is so easy to use, self-explanatory and it sounds really great,' reports A-Live Sound Chief System Designer, Martijn Van Renterghem.
Also making full use of dLive's onboard plug-ins, he adds: 'The plug-ins are so good that I don't think I'll ever bother plugging in my Waves system again. Being able to add the Dyn8 onto any channel is such a great tool.'
The Lush Life stage – centred on up-and-coming artists – operated two dLive C3500s connected to two DM48 MixRacks, while the rave-haven Rhythm Corner stage adopted a dLive Wings system for FOH and monitors, featuring a C1500 and DM32 MixRack (fitted with a Dante card).
'dLive's interface and workflow is really easy to use, intuitive and sounds fantastic,' offers A-Live Sound Sound Engineer, Darren Hutton. 'I was really impressed with the reverbs which sounded very natural and authentic, especially when mixing on in-ears. The dLive Director software and additional features such as importing scenes, being able to reset aux mixes and pre-patching show files for visiting engineers were particularly nice to have, as it meant I was spending less time on the desk and scene management and more time focused on dealing with the artists' needs.
'The S7000 is definitely my favourite desk at the moment and I look forward to using it more in the future. Whenever I've talked about dLive with other engineers, I've only heard positive comments.'
Allen & Heath's SQ series also served the Big Top, Woodland, Forest and Love Dancing stages – go-to areas for fans of house, electronic, funk and soul. Additionally, four DX168 expanders were split across the stages, providing further remote I/O for the artists, as well as DJ set-ups, changeovers and festival announcements.
With A-Live Sound having made a significant investment in dLive and SQ, both Allen & Heath and UK distributor, Audio-Technica, attended the event, offering support to the house techs and visiting engineers.
'It's great to see more Allen & Heath consoles appearing on festival riders each year and to see so many visiting engineers taking to dLive and SQ with total ease,' adds A&H Technical Marketing Manager, Léon Phillips. 'They simply rocked up with their show files and despite never having used these consoles before, they were comfortably set-up and running in a matter of minutes. The feedback from the house engineers was also incredibly positive, with the consoles' ability to drag-and-drop layouts on the fly being highly praised.'
More: www.allen-heath.com