For those who
missed it at ISE
, Frankfurt's Prolight & Sound 2011 offer another opportunity to both see and hear three-dimensional sound and video technology, and daily presentations on the advantages of 3D technologies from the five companies involved.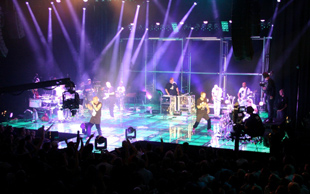 Taking place at the show's 3D Live In Concert experience (L28, Hall 8.0) the presentation will demonstrate the application of the technology with a 3D live recording of German hip-hop band Die Fantastischen Vier (The Fantastic Four) as its centrepiece.
3D Live In Concert is a collaborative effort Alcons Audio (sound), Event Acoustics and All Areas (room and acoustics), DVS (playback, server and 3D content) and Infitec (projection and 3D glasses). The 5.1 Alcons system comprises three LR7 pro-ribbon micro line-arrays and one LR7B bass driver (mixed LCR), eight surround clusters of two LR7 each, plus two of Alcons new BC543 subs. The system is powered and controlled by ALC4 and ALC6 units, fitted with DDP processors. The audio signal will come from a playback server in AES/EBU format, mixed via a digital console and input to the system via studio-grade D/A converters.
Alcons co-founder Tom Back's discussions will be on how the company's pro-ribbon transducer technology contributes significantly to the imaging of 3D content, making it possible to deliver the best and most lifelike experience to the audiences of 3D shows.
'The room will be acoustically perfect, so it will be an awesome experience,' says Back. 'We look forward to showing Prolight+Sound 2011 visitors how good the experience of a concert in 3D sound and vision can be.'
His sessions take place at 11am on the 6 April, noon on the 7 April, 1pm on the 8 April and 10am on the 9 April.
More: www.alconsaudio.com