Dubai-based AVenger Electronics has been appointed RCF distributor for the UAE and Oman.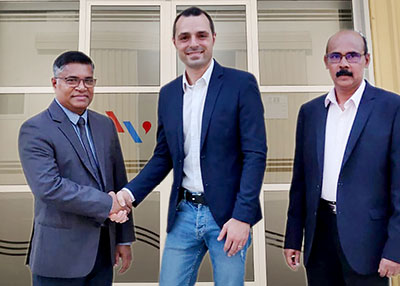 'Since RCF has the entire range of professional audio products in its portfolio, catering for the installation, touring, MI and Evacuation segments, we considered them our preferred choice for servicing the markets in the UAE and Oman,' explains AVenger sales manager, Joseph Ninel Rebero. 'This would range from small portable PA to large stadium installations.'
The move was prompted by Avenger Electronics, who approached RCF, having recognised RCF's existing high brand value in the region. 'We knew it was well established in both the touring and MI market,' Rebero adds.
With extensive knowledge of RCF through his time with previous distributors, Rebero will lead the team that will be focused on promotion throughout the UAE and Oman: 'Our mission will be to focus more on the integration market to bring RCF up to the next level in this segment,' he says, forecasting that initial impact is likely to be created through the Live & Pro Series, as well as a new business music solution products, due for imminent release.
AVenger Electronics has begun a vigorous marketing campaign, favouring roadshows and seminars over trade shows in the Middle East, and will also exploit opportunities via direct marketing, social media, newsletters and displays through dealer networks, as well as onsite demos, training and consultant visits.
'Having known Joseph Ninel Rebero for some time, when he informed me about the new company he was about to co-found with other experienced people in the industry – people who already had deep knowledge of RCF, its products and philosophy – their appointment was a no brainer,' says RCF Europe & Middle East Sales Manager, Luca Ombrati. 'AVenger Electronics' decision to keep RCF as the unique and exclusive audio brand in its portfolio, in view of its very broad product offering, further confirmed our impression that they were best suited to our needs.'