Taking place annually across the city of Szeged, Szeged Sabadteri opera and music festival hosts a diverse programme of lavish productions ranging from rock musicals to opera being staged in the vast central Dóm Square. This year's futuristic treatment of Aida marked the 80th anniversary since the opera's first staging at this striking venue. Complementing director Gergely Kesselyak's use of high-tech LED and multimedia scenography, TiMax SoundHub with HardCore FPGA spatial processing added a new level of vocal and orchestral sonic immersion to an audience of 8,000 over two nights.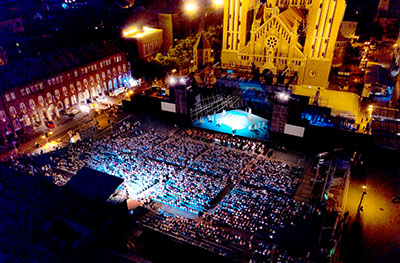 Hungary TiMax specialist Votec have managed the event's audio for several years, deploying SoundHub along with its proprietary ES Audio loudspeaker brand for this year's event: 'For the first time we were able to create a natural and immersive sound here at the Szeged Open-Air theatre together with TiMax,' says Votec International Business Manager, Otari Tsereteli. 'The audience heard the opera like never before. Every sound, music and voice came from the direction of where it physically was on stage; it felt real. Though, incredibly, some people thought the speakers were turned off.'
TiMax dynamic vocal localisation was controlled in real time by all-new TiMax TrackerD4 precision stagetracking, employing seven TTd4 Sensors, with five mounted above the stage at the front, sides and upstage, plus a pair downstage at stage level. Twelve principals and four choir group leaders wore miniature TTd4 Tags, which transmitted their identities to the network of Sensors via a quick-fire stream of radar-frequency UWB chirps.
Mic channel direct-outs and eight orchestra groups were sent to TiMax from an Avid S6L console via Madi, with vocal mics preamped and balanced on a classic Midas XL4 console feeding the S6L. Sound engineers were Votec's Lajos Pánczélon, balancing vocals from the opera singers and choirs, whilst the orchestra was handled by Werner Schmidl, Szeged Sabadteri's veteran guest engineer who was flown in from Germany for the festival.
Votec's ES Audio loudspeakers feature bespoke HF ribbon drivers incorporated into efficient and versatile three-way and two-way large-format and compact line array configurations. All speaker channels were fed from separate TiMax outputs, via Powersoft amplifiers.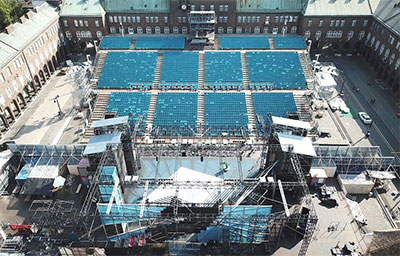 The distributed spatial audio system, designed by Votec's Sandor Elek and Dave Haydon from TiMax developers Out Board, featured ESA126 main LR large-format line array hangs plus three spaced out centre hangs of NJ66FLA, splayed outwards to fire in audience-left audience-centre and audience-right directions. Six pairs of NJ66 were distributed as front-fills along the front of the audience.
Ten metres upstage, three more NJ66FLA drops were similarly spaced but cross-fired as 'anchors' to support upstage imaging for the frontal flown systems' TiMax spatial reinforcement. An additional ten hangs of NJ66FLA surrounded the audience seating to deliver convincing immersive concert hall surround reverb. Three TC6000 reverb engines were spatialised and time-mapped in TiMax Image Definitions – a shorter decay characteristic biased towards the front for the vocals to simulate dominant early reflections, a longer decay with brighter characteristic spread wide and deeper to create an enveloping large room for the orchestra spatial reverb, and a third with a subtle, darker feel biased to the audience rear to expand the impression of the virtual concert hall's size.
TiMax PanSpace mapped 49 vocal imaging zone objects across the 40m2 stage, and eight spatial zones across in front of the stage for the orchestra. TiMax TrackerD4 sent OSC commands to two client MacBooks running TiMax SoundHub software (main and backup), to move input channel icons in real time around the vocal imaging objects distributed across an imported map of the stage. The same map was previously dimensioned in PanSpace whose adaptive spatial rendering function instantly calculated all the delay-mapping level/delay Image Definition objects for vocals, orchestra and the several spatial reverb environments.
Haydon was on site to assist with TiMax set-up and programming, alongside Votec's Otari Tsereteli and system engineer Mark Zsibok, who managed TiMax during rehearsals and for the show. 'It was great to see and hear our tailored spatial reinforcement system design work as well as intended – the throw and coverage of the compact ES Audio arrays were phenomenal, especially for such small boxes, and their ribbon drivers' coherence really seemed to help in blending the TiMax spatialisation together so seamlessly,' Haydon reports.
Votec's owner and production sound supplier for the festival, Sandor Elek, confessed the impressive spatial audio results brought goose-bumps to his arms: 'We chose TiMax because our company's philosophy is to make an atmosphere for classical music as if it were acoustically sounding in a real concert hall. But of course, the Dóm square is a huge place with 4,000 seats. Yet we made the audience hear the beautiful opera sound as though the sound system did not exist. Our job was done!'
The show's Director for Aida, Gergely Kesselyak, who specifically requested 3D-localised spatial reinforcement for the production, commented: 'Bravo – the sound was one of the few things I didn't need to attend to at all during dress rehearsals.'
More: www.outboard.co.uk