Audio-Technica has been appointed official Microphone Services Solution Provider to MotoGP by Dorna Sport SL, the commercial rights holder of MotoGP.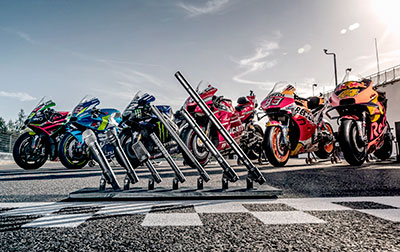 Dubbed the Grand Prix motorcycle racing, the championship comprises 19 Grands Prix held at race circuits around the world each year. For their broadcast, Dorna's Media Content and Production team were looking to enhance the quality of audio delivery to match that of its best-in-class in-house visual programming (which is delivered to 89 Media Partners Worldwide).
The team began auditioning various Audio-Technica microphone solutions toward the close of the 2018 race season. Successful testing resulted in Dorna's decision to select some 265 Audio-Technica microphones, headsets and monitoring solutions including 53 track feed microphones, 76 interview and ENG camera microphones, and Audio-Technica System 10 2.4GHz wireless microphone solutions for 16 roving ENG cameras.
Audio-Technica's new 3000 Series handheld wireless systems and new Engineered Sound 925 goosenecks with Dante endpoints are used for the pre/post-race press conferences, while 30 BPHS1 headsets are deployed at various commentary positions. A selection of 72 M60x monitor headphones and E50 in-ear monitors also allow the MotoGP teams to keep an ear on their live audio feeds. The selected Audio-Technica solutions began to be rolled-out from the first European race of the 2019 MotoGP season at Jerez in Spain, in May.
Of particular note is the instant success of the 'developed for sports broadcasting' Audio-Technica BP28 and BP28L large-diaphragm shotgun microphones deployed at MotoGP: 'We immediately noticed a major step change in track audio acquisition quality when the Audio-Technica shotguns were installed,' says Dorna Sports Media Technical Director, Daniel Laviña. 'With their exceptionally wide frequency response and high SPL threshold, they seem ideally suited to the sound of the race, and we can now have great quality audio continuity between one camera position and the next.'
'We are delighted that we have been selected as MotoGP's Microphone Services Solution Provider and that Dorna have deployed such a large number of our broadcast microphones, however, I am particularly excited by the close R&D opportunities that we will be able to work on together,' adds Audio-Technica Head of Global Engineering, Kazuhiro Onizuka. 'Working with Dorna at the actual live MotoGP races around the world is a great extension to our research laboratory, and further demonstrates Audio-Technica's commitment to sports audio broadcasting.'
More: www.audio-technica.com