From its locations in Miami, New York, Boston and Haiti, Tabernacle of Glory's non-denominational Christian congregation gathers annually at the Watsco Center in Coral Gables, Florida, on the University of Miami campus to mark the final days of its 40-day fast. Through four days of worship, song and prayer, guest pastors from around the world deliver sermons during two four-hour worship services each day, while a seven-piece band adds Haitian Caribbean music.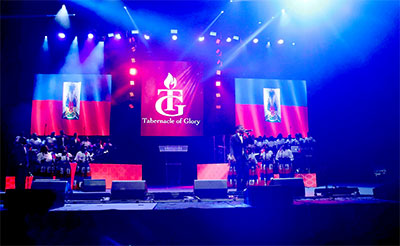 As the largest facility of its kind south of downtown Miami, the 200,000sq-ft Watsco Center is a multipurpose entertainment facility. Built in 2003, the its has hosted a number of memorable concerts, televised events and awards, including The X Factor and 2004's US Presidential Debates. In preparation for 8,000-plus congregants attending the celebration, the church brought in Lennox Foster from Sound Media to design a system that would lend intelligibility to pastors' speeches and also serve the intensity of the music.
'One of the characteristics of this event is that the crowd is very responsive, and the sound system has to have enough dynamic headroom to surpass the crowd noise, which can get up to around 110dB,' Foster says. 'When we were working at the event, the amps still had about 12-16dB of headroom, even when the crowd was at its loudest.'
The Powersoft X Series amplification platform includes loudspeaker management – all signal processing functions – in a single, lightweight unit. The X Series also includes Armonía integration, which Foster employed to design the Watsco Center sound system. Using ArmoníaPlus, he was also able to manage the system thoughout the day-long services, organising the loudspeakers into zones and keeping sound at optimum levels.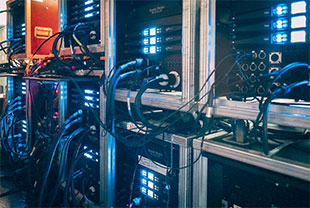 Foster employed 18 Powersoft X4 four-channel amplifiers platforms to power 24 flown TurboSound TFS-900H loudspeakers, 18 flown TFA-600L and 16 flown TFA-600H loudspeakers, in addition to 10 TFA-600HW loudspeakers used for front fill. To power 24 TurboSound TFS-900L ground subs, he used new Powersoft X4L amplifiers. Additionally, for the monitors he employed the recently launched T Series amplifier platform. 'We chose this combination of TurboSound loudspeakers and Powersoft amplifiers because we needed to cover the whole spectrum of sound, and these are truly full-range loudspeakers,' Foster says 'It's very in your face.
'The situation throughout Tabernacle of Glory's 40-day fast celebration is very intense,' he adds. 'There's a lot of demand on the amplifiers to perform in this space at a very high energy level, because this event is very musically based, with a lot for low-frequencies from the subs. But at the same time, they need to be lightweight and efficient.
'All the Powersoft amps we used performed very well, and were not stressed in any way. In addition, these amps gave us a small footprint on the floor, with less power draw than other amplifiers.'
More: www.powersoft.com