The eleventh edition of Bergheim's city Summer in the City festival offered six stages spread across the city where thousands of music fans saw free performances by bands of all conceivable styles. As technical service provider, TSL Production was once again responsible for the event's sound systems.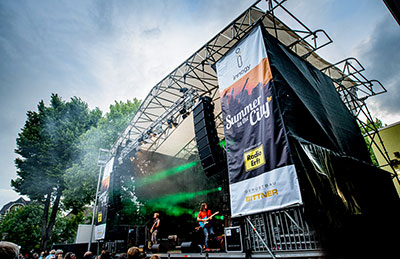 New this year, the audience could vote for bands that would then perform on the Audience Stage. RCF served the complete festival on all stages, using the new TTL 4-A system for the first time.
Summer in the City's main attraction – and its largest stage – was the Centre Stage. Here, TSL Production fielded 16 HDL 30-A line array elements as the main PA, with 12 Ssub 9006-AS boxes for the low end, two TT 22-A as monitors, and six TT 25 SMA and a TTS 15-A as sub monitors.
Further stages in the city area were the World Music Stage, with two TTL 6-A boxes and two Sub 8006-Ass, as well as four NX12 SMAs. The New Vibes Stage was equipped with two TTL4-As, four Sub 9004-ASs and six NX12 SMAs. For the Your Voice BM Stage, there were six HDL 26-As, four Sub 9004-ASs and two TT 22-As as monitor wedges. The Unplugged Stage was equipped with two TT 10-As, two TTS 15-As and two TT 22-As as monitor wedges.
TSL Production has served the festival from its first incarnation, with this year's event being the eleventh. 'With more than 75 modules and used all over the city, the RCF systems once again proved their versatility when handling all the stages with different sizes and many different music styles,' says Frank Schmitz, CEO of TSL Production. 'We could manage the entire event and all six stages only with sound equipment from RCF. This is not only beneficial in terms of logistics but also offers enormous advantages during live operation.'
More: www.rcf.it