Big Brother Canada recently completed its seventh season with an Allen & Heath dLive mixing system having handled audio for the live studio audience segments.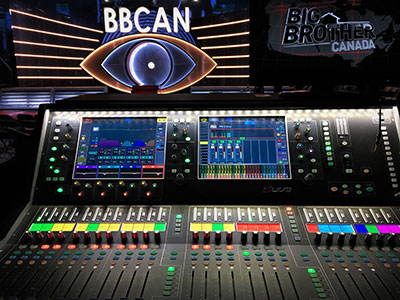 Solotech assisted in upgrading the console for the run, calling on Allen & Heath's Canadian partner Erikson Pro for support. Solotech's full set-up featured a dLive S5000 surface, paired with a DM64 MixRack, fitted with superMadi and Dante networking cards.
'For the past few years, we'd been using an older model console that had a larger footprint and less features, so this year provided a good opportunity to upgrade to dLive,' says Solotech Audio Technical Advisor for Live Productions, Phil Hornung. 'Erikson Pro provided support that exceeded expectations during the evaluation process.'
dLive's features, particularly the Automatic Mic Mixing (AMM) function and advanced networking and Madi I/O option cards, are what ultimately led to Solotech's decision to invest in Allen & Heath. 'The dLive has a very sophisticated Madi I/O option card that can also interface with the fairly complex broadcast console and matrix system in place on the show, regardless of sampling rate, channel count or Madi format,' Hornung explains. 'It also has a large capacity 64-channel AMM, which has proven to be an invaluable solution. We'd been previously using two separate 16-channel AMM's, linked together externally from the console.'
'The Tie Line option was also a welcome addition compared to the platform we had used up until this season,' says John Lacina, a senior audio engineer at Solotech (and mix engineer for the live studio audience). 'It allowed me to give and take broadcast Madi signals and use the console and remote rack hardware to deliver audio around the studio as needed, without using up any console surface assets. I also really enjoyed the built-in AMM function, as well as the Ducker, Multiband Compressor and other onboard FX options.
'The dLive system exceeded my expectations in every way. It's incredibly intuitive, easy to navigate and sounds wonderful. I'm looking forward to using this product again for another television broadcast this fall.'
More: www.allen-heath.com