The London headquarters of the Royal Institute of British Architects (RIBA) has completed a full A/V system upgrade, with ten channels of Shure ULX-D Digital Wireless along with a selection of high-end headset, lapel and gooseneck Shure microphones.
This first phase is part of an ambitious four-year plan to improve the overall audio at RIBA, commenced with the expandable 284-400-seat auditorium and took three months to complete. Work on the project began with consultation between RIBA's in-house A/V team, A/V specialist TSProfessional and Shure.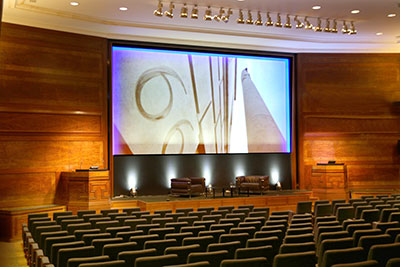 'The auditorium was due for an overhaul,' explains RIBA A/V Manager, Steve Barrett-White. 'The furniture is the original seating that's been in place since 1934, so we took the opportunity to not only upgrade this, but upgrade the A/V, too. RIBA hires out its rooms and spaces, including the auditorium, for a number of different events, including conferences, weddings, expos, meetings and other uses, so we wanted a system that was versatile, flexible and dependable, but also the absolute best for the environment which we work in.'
Before work began on the upgrade a tender process was initiated, with manufacturers invited in to RIBA to discuss the requirements needed. 'In the case of the radio microphones, we evaluated and tried six different brands within the space, then made our decision based on the demonstrations and audio quality,' Barrett-White says.
'The quality and the sound of the Shure equipment was far superior to anything else that we looked at.'
As the premises are a Grade 2 Star listed building, an application process is required for any changes to the interior and exterior through English Heritage. With audio the process took a simpler route, as a physical change of the building wasn't required. However, consideration had to be given to interference from other wireless systems operating locally – including more than 200 venues within a mile radius – plus a number of nations' embassies situated directly opposite the building.
'We used to have interference issues, especially at certain times of the day when the Embassies were at their most active, but since we moved suppliers and over to Shure, this isn't a problem anymore,' Barrett-White says.
'Initially we went in to RIBA and helped scan the local spectrum to iron out any immediate issues on the SLX system that they had, then undertook another scan when we demonstrated ULX-D to check spectrum availability using Shure's Wireless Workbench platform,' says Shure Sales Manager, Installed Systems, John Ellis. 'Wireless Workbench helps manage every facet of a performance, and after showing the team at RIBA how it can assist with frequency coordination it has been a real asset, especially when any event companies using the space at RIBA bring in their own wireless systems as it can be used to find additional clear frequencies for any manufacturer's wireless system.
'Due to its central London location, the Shure system was selected to avoid any issues with interference from other radio microphone users in the area,' adds TSProfessional MD, Keith Upton. 'The encryption offered by ULX-D was also important due to the variety of clients using radio microphones at this location. Both us and RIBA were very happy with the end result.'
All the microphones throughout RIBA are now Shure, with the auditorium benefitting from a system that can now deliver a 7.1-channel immersive audio experience, which can be in operation up to twice a day during peak conference season – from 7am until late evening.
'We work very closely with a number of people at the BBC and took their recommendations of what they would like in a system, as we work with them on a lot of live broadcast and recordings, particularly for radio,' says Barrett-White. 'Quite often, their engineers will come to RIBA without their own equipment, confident in the system that we have to be able to broadcast direct. The beauty of the system is that we can put anything in for a client's needs. So, if we need wireless goosenecks, we can add them in, along with additional headsets and handhelds. The flexibility of the system is great, and we know that every single time we use it, it's going to work.'
Along with the auditorium's ULX-D system, smaller rooms are equipped with Shure SLX wireless systems, with a planned audio upgrade of RIBA's second largest space, Florence Hall, to ULX-D, along with integration of the whole of the building to offer distributed audio due in the near future.