Having outgrown its sanctuary, the First Baptist Church of Cushing in Cushing, Oklahoma, raised money for a new building that would preserve the charms of the original while improving on its function and expanding seating capacity to 750. Local integration firm Beasley Technology and sister company AVL specialist Hart Designs were called in to handle everything from security to sound reinforcement. Although a prior proposal involved a different loudspeaker manufacturer, the Beasley-Hart team switched the project to Danley…
'First Baptist Church of Cushing's new sanctuary is approximately 90ft x 90ft with a 32ft peak,' explains Hart Designs owner, Doug Hart. 'The service style is contemporary with a full band, but they keep the volume under control – in part because the congregation is a mix from very young to old.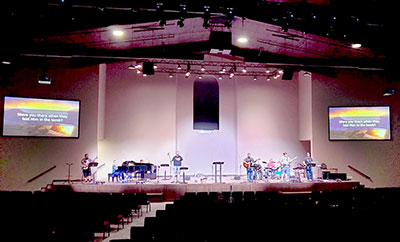 'They wanted a sound system with great intelligibility and impact. I had been hearing good things about Danley for a long time, but it wasn't until I was on vacation with my family in Silver Dollar City and caught a show at the Opera House that I heard Danley boxes for myself. The show sounded fantastic.
'When I got back home, I arranged a demo in a local theater that Geoff Beasley is restoring. Kim Comeaux of Anderson Sales & Marketing drove eight hours round trip for the demo and Geoff and I, along with all of our audiophile friends, were totally blown away. They were the best speakers we had ever heard.'
The team suggested a switch to Danley but the church wanted some proof that the idea was a good one. Comeaux again made an eight-hour, round trip to demo Danley boxes for the church members. 'It only took them five minutes to unanimously and enthusiastically agree that Danley was the best choice,' Hart recalls. 'So, Kim drove eight hours for what turned out to be five minutes of work.'
The installed system is beautifully straightforward: just a stereo pair of high-output SM80 full-range loudspeakers with a pair of TH115 subwoofers flown together on the midline of the room. A single four-channel DNA 10k4 Pro amplifier, with integrated processing, powers the system. Hart used the built-in presets for the SM80 and TH115 as a reasonable starting point during system tuning.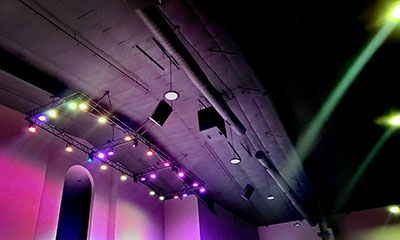 'At the beginning of the project, I told the church that their square room with flat walls would likely need acoustic treatment to sound reasonable,' Hart says. 'Even after the chairs went in, the decay time was around two seconds with a fair amount of slap back. However, I wasn't counting on pattern control, which keeps a lot more energy off the walls than conventional loudspeaker designs can manage. I'm impressed by how intelligible and clear the system sounds even without treatment.'
A Behringer x32 console and a dozen inset stageboxes give the church flrxibility in managing sound, including outputs for Behringer Powerplay P16 personal monitors. Outputs for powered wedges also exist, should the church decide they need them. Some of the stageboxes also include DMX512 jacks for up-lighting and haze machines.
The video system includes three JVC PTZ cameras at left, centre and right to capture everything that's happening on the 65ft stage. A Blackmagic ATEM Television Studio Pro HD console gives the church's technicians complete control of the three cameras and an EasyWorship computer feed. Outputs include a Facebook Live feed and video distribution to the lobby and classrooms.
'When we were tuning the system, their sound guy came in and asked if we had had a chance to EQ the drums,' Hart says. 'They were using a Yamaha electronic kit, and he wasn't super happy with the way it had sounded in the old sanctuary. I explained that, no, I hadn't gotten to that yet, but since the drummer was on stage playing, I unmuted the drums. The sound engineer looked at me and gave me an awestruck "wow!" – they sounded incredible, even without equalisation. As we went through the rest of the system, we got a lot of compliments. No one had ever heard a system that sounded so clear! Whereas they were trying to run around 85dB in the old sanctuary, they're now able to run around 92dB. Danley's clarity makes all the difference.'
More: www.danleysoundlabs.com