Counting more than 15 years of experience renting audio, video and lighting equipment to produce corporate events and artistic shows, Mexico City-based Castelein Audiovisual Services has expanded its audio equipment portfolio with a Bose Professional ShowMatch DeltaQ Array system.
Castelein's assignments include many of Mexico's top event planners, PR and promotion agencies, production companies, and even other A/V rental companies, necessitating the to meet needs ranging from a small conference of fewer than 100 people to a multi-session congress or a musical show in a 1,000-seat venue.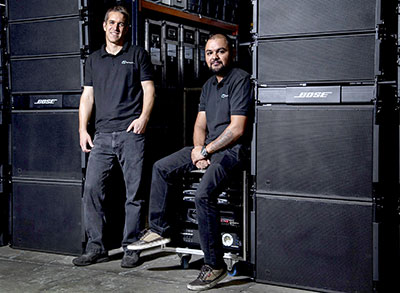 The Bose system recently acquired by Castelein includes 16 ShowMatch line array modules, eight SMS118 subwoofers, suspension accessories, and four PowerSoft X4 amplifiers.
With this system, the company can assure the intelligibility of a presenter, the clarity required by corporate video, and the full-bandwidth power needed for a live concert performance.
Castelein's relationship with Bose Professional technology began in 2009, when it first added Bose L1 Portable line array loudspeakers as part of its rental inventory. This experience became one of the aspects that,Director Aymeric Castelein took into consideration when contemplating the company's investment.
Castelein has a professional background in business administration, and rates Bose Professional systems' rentability: 'I trust the brand's name recognition and the staff expertise of the Bose team in Mexico, so I knew the sound quality of the system and its specifications would meet the criteria we were looking for,' he explains.
He notes four key elements that helped tip the scale towards ShowMatch. First and foremost, the system's impressive power to size and weight ratio, considering how compact the modules and subwoofers are, which speeds up assembly and, at the same time, satisfies the aesthetic requirements of corporate events. Secondly, the fact that these are passive speakers (and consequently lightweight), which makes it easier to work in venues with a small weight allowance or without rigging points. Then came the local support and service provided by the Bose team. And finally, the opportunity to strengthen Castelein's relationship with the brand, since the Bose name is well known in the industry and readily accepted by the company's corporate customers.
'I like to see our suppliers as allies, because we can help each other and grow together. With Bose Professional we have assumed the challenge of positioning the ShowMatch DeltaQ system among different production and rental companies and sound engineers, and we're working very hard to achieve that goal,' Castelein concludes.