Organised by VSF, SMPTE, AMWA and the EBU, the JT-NM Interop test for IP-based equipment saw Lawo meet all testing criteria in the ST2110 and ST2022-7 categories. All successfully tested systems will be part of the JT-NM Tested Catalog, to be published at IBC in Amsterdam.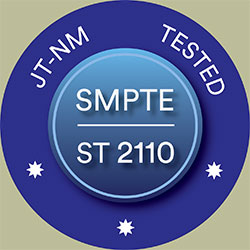 The JT-NM Tested programme offers prospective purchasers of IP-based equipment a fully documented insight into how vendor equipment aligns with the SMPTE ST-2110 and SMPTE ST-2059 standards. It documents the test procedures, test equipment and results of the JT-NM Tested event that was at Riedel Communications' facilities in Wuppertal, Germany. This programme highlights how vendor equipment conforms to key parts of SMPTE standards, providing prospective purchasers and users with a reference as they begin their equipment evaluation and qualification process.
With its long real-time IP experience in video, audio, control and network monitoring, Lawo contributes expertise covering the complete range of solutions for live production, and aligned to open standards such as ST 2022-6/-7 and ST2110 in video, AES3, Madi, Ravenna or AES67 in audio or Ember+ in control.
'Lawo strongly believes in these standardised, open approaches in order to come to best possible solutions with a solid and secure long-term perspective for their clients,' the company says. 'The company is also a founding member of the Alliance for IP Media Solutions (AIMS), founded to ensure that all video- and audio-over-IP solutions brought to market offer complete interoperability and are based on open standards for seamless integration into media workflow environments.'
More: www.lawo.com