Established in 1872 in Helsinki, the Finnish National Theatre is its nation's oldest Finnish-speaking professional theatre. Its current venue was built in 1902, but its recently-updated installation of Alcons Audio Q series and L series pro-ribbon loudspeakers means the 900-capacity main stage enjoys superb sound and coverage – without impacting on its historic decor.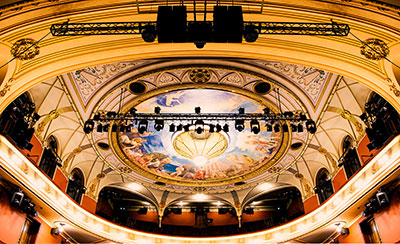 The horseshoe-shaped auditorium has three balconies, providing a challenge to projecting seamless, high quality sound to every seat. This was solved when sound and lighting specialist Electro Waves installed an Alcons QR series pro-ribbon system several years ago. This comprised LCR arrays of high columns with QM36 modular line-source LMF array extensions. QB363 modular low-frequency array columns were added to the centre cluster, all powered and controlled by Alcons Sentinel3 and Sentinel10 amplified loudspeaker controllers.
The system proved extremely successful, but recently the theatre wanted to further extend the vocal coverage of its productions. To achieve this, two new centre clusters of seven LR7/120 wide dispersion, micro line array modules each were installed to complement the QB363s. The existing centre array QR36 loudspeakers were re-deployed to enhance the coverage of the front left and right of the second balconies. Both of the two LR7 arrays were powered by additional Sentinel3's.
The main arrays are 6m tall, loaded with 36 6,5-inch mid-bass and 12 18-inch pro-ribbon drivers each. 'The system was performing very well, but more extended coverage was needed for vocals,' explains Electro Waves' Kari Lehtonen. 'We chose the LR7 because we knew that additional Alcons pro-ribbon speakers would maintain the uniformity and quality of sound throughout the system, as well as providing the extra coverage that was needed.'
A twin A/B array of LR7s was chosen to allow signals to be summed acoustically, rather than electrically. 'Acoustic summing allows the listener to distinguish between sound sources differently, electrically summed signals are more difficult to make sound distinct. This principle has been used successfully in theatre systems for many years, so it was a great opportunity to bring it in the Finnish National Theatre,' says Kari.
'The Alcons speakers have a very natural, uncoloured audio quality and they worked exactly as predicted by Ease modelling. Very little EQ or other adjustment was needed when we were tuning and commissioning it. The new centre loudspeaker system covers the floor as well as the balconies extremely well, with the entire audience able to clearly hear every word of the productions.'
More: www.alconsaudio.com