Rapidly making a name for themselves with brass-infused renditions of songs from the likes of Rage Against The Machine and Tool, Brass Against recently wrapped up a 22-date European tour, using Allen & Heath's compact SQ digital mixer at FOH and monitors for the band's support slot with Lenny Kravitz at London's O2 Arena.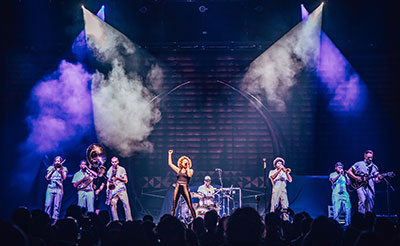 The band called on UK-based Production & Touring Ltd (P&T) to support their shows on both sides of the Atlantic: 'At P&T we work with artists all over world, from first timers to larger seasoned acts, and our goal is to make it financially viable to tour without compromising on expertise or gear,' explains P&T Director, Mike Taylor.
'Brass Against needed an affordable package that had to facilitate everything from a 500-capacity venue right up to the O2 Arena and festival stages. The final kicker was that the whole lot, including the backline, had to fit into a bus bay.'
In designing a compact, cost-effective system for Brass Against, P&T opted for two SQ-6 consoles, three DX168 remote I/O boxes, a DX Hub, SLink card and a Waves card.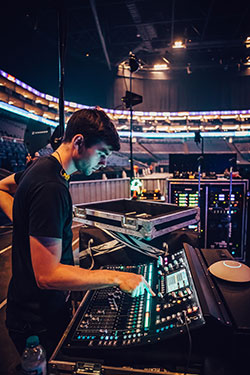 'All of the stageboxes are mounted in to a single 15U-high case with the IEMs and radio mics mounted in the rear. It is super compact and easy to set up. We have split the console over two layers, so when we are only using one console we can process the channels for Monitors differently to FOH, so if we change the EQ for instance it doesn't change everywhere. When we require two consoles, we just load the show file and FOH takes control of their channels and the monitor console takes control of theirs. it's wonderfully easy.'
With SQ's optional Deep processing add-ons, the engineers have also found they no longer need to use a Waves server, cutting the gear list down further and moving all control to the console.
'We have removed the Waves server from the show as with the onboard Deep plug-ins we found there was less and less need to have Waves,' Taylor says. 'SQ's Compressors are musical and fantastic, the EQ section covers everything and sounds natural and accurate, and the Dynamics are perfect for this kind of music – and it's great to have control on the console.'
The SQ's Tube Stage Preamp plug-in has also found its place in the mix. 'Mixing Brass Against is a rewarding experience, the idea isn't so much to make it sound like a brass band, but more to make it sound like a full rock band. We have used the Tube Stage Preamp to help fatten up the bottom end and add some nice distortion to the Baritone sax to get it to sound even more exciting, as the Baritone really drives the sound of this band.'
Overall, Taylor is convinced that SQ is the right console for the job: 'The SQs have been the perfect console for this tour. They are compact, heavyweight in sound and adaptability, intuitively laid out. in fact, we haven't found anything that they can't do.'
More: www.allen-heath.com