Singesen Technical Production and Chan Lee Sound & Light selected a JBL loudspeaker system and a combination of Powersoft X8 and X4L amplifiers for American singer-songwriter, , as he stopped off in Kuala Lumpur for the third Asia date of his Good Vibes World Tour.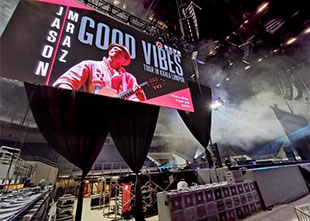 The main hangs at the arena comprised 12 JBL VT-4889-1 elements per side, with eight VT4888s flown per side as side fill and six VT4888 elements in the centre. The system's twp VT 4880 subwoofers were groundstacked at the side of the stage, while a series of Nexo PS15 wedge monitors were placed along the downstage edge. An additionalsix JBL VTX A8 were used as front fill.
The main system was driven by 11 of Powersoft X8 amplifiers, while a pair of the company's latest touring model – the X4L – were also used to power eight of the VT4880s, with each channel driving two of the subs.
'The gig was used as something of a field test for the X4L amps, before loading it with VT4880A long excursion subwoofers in the future,' Jackie Ng, owner of Singesen, explains.
The Powersoft gear used to drive the Good Vibes in Kuala Lumpur was made available thanks to Singesen Technical Production's recent investment in the Italian manufacturer's industry leading technology – an indication of the company's growing confidence in the brand.
'We have used Outline systems for some time, so we were familiar with the reliability and high-performance levels of Powersoft amplifiers,' Ng says. 'When the opportunity to invest in Powersoft amplifiers presented itself, it really was a no brainer for us. Since Powersoft works with all our speakers in our inventory, being an open platform, we couldn't be happier with our decision.
'We are big fans of the software's Smaart v8 integration,' he adds. 'In this case, it did a very good job of distributing equal SPL to cover all of the major sound locations. The Interactive Tuning plug-in is also a great tool, as it helps us to keep the system quiet while we do system calibration. This allows us to see the system response simulation without blasting pink noise at every change. We then only need to verify in the end with the predicted curve.'
Ng was also keen to point out the assistance that came from Powersoft's staff as well as its software: 'The technical representative from Powersoft was there when we received our amplifiers, so they were able to make sure that everything was in working order. We then did some testing and, using the LiveImpedance data in ArmoníaPlus, we managed to detect an issue with our speakers. Thanks to the software, these problems were rectified quickly and we were able to put on a great show.'
More: www.powersoft-audio.com