Located in downtown San Francisco, the Pyramind multi-disciplinary audio and music production school set up by recording producer/engineers Greg Gordon and Matt Donner has spent the past 15 years building a comprehensive set of audio engineering and production programmes addressing everything from traditional audio engineering to electronic music production. A distinguishing feature for the school has been its embrace of the interactive entertainment industries local to the Bay Area, which has landed its graduates positions at major video game companies like Blizzard, Disney, Ubisoft, Sony and Double Fine.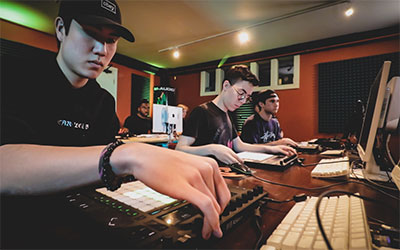 The school recently adopted Sonarworks' Reference 4 audio calibration software to ensure consistent mixing environments within the school as well as the headphones of attending students.
Pyramind began as a combination recording studio/production company, but when Gordon was asked to develop a recording and engineering programme for San Francisco State University, he saw an opportunity to teach more than just traditional audio engineering. 'I didn't just want to train another generation of knob-twisters,' he said. 'It was important to me that the program teach from a content creation perspective and how to use that knowledge within different formats and industries.'
Gordon and Donner redeveloped Pyramind to allow for workshop style teaching and as demand increased, the pair found themselves moving into larger facilities as well as a broader curriculum that found them using their connections to the growing video game and postproduction industries locally. 'We were starting to organically develop relationships with these companies and thought it would be helpful to offer something that had more depth than traditional audio engineering,' he says. 'It was cool for us to grow alongside this industry and we've had a lot of success placing students at these companies after they complete our programmes.'
The school currently offers four full-time courses, each of which follows different aspects of audio production, along with a variety of part-time night courses and DAW certification programmes. Pyramind's Sound for Picture & Games Producer track is specifically designed for postproduction and video game audio, something that Gordon explains requires an extra tier of understanding. 'Creating game audio is complicated, because it requires an understanding of interactive audio development as well as the tools available,' he says. 'You have to learn how to implement sound in the game using interactivity, as well as how to create adaptive music scores.'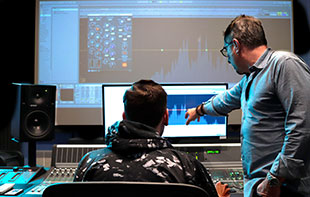 In addition to being trained in audio production DAWS such as Pro Tools, students in this track also learn Wwise and FMOD, software tools that allow sound designers to create and import audio into games and define when and how they are triggered by ongoing gameplay. Gordon says that often the budget of a game will determine how extensive its music and sound creation is and whether or not an entirely new library must be built from the ground up. To allow for this, Pryamind has Foley kits available so that students can get hands-on experience with creating their own sounds from scratch.
'You can source sounds from existing effects libraries, but when you are working on a AAA game from a big studio they often require their own sound design environment and a lot of customisation,' he says.
Despite the variety of programmes offered at Pyramind, one thing that they all have in common is their standardised use of Sonarworks' Reference 4, something that Gordon considers crucial to the school's signal chains. 'Having consistency throughout all the listening environments that we have is essential to teaching because you want ensure that we're all hearing the same thing,' he says. 'We have Reference installed in all four of our studios and on every DAW and it helps ensure that what you're hearing is going to translate regardless of where it is heard.'
In addition to using the monitor calibration in their studios, Pyramind also provides each student with a set of AKG K702 headphones, each individually calibrated by Sonarworks for best possible accuracy. Gordon says that this made a big impact on student workflow and has allowed them to drastically cut down on translation issues by adopting a standardized set of headphones. 'What's great about Reference is that it doesn't change the nature of our training, it just makes the production workflow that much easier and better. It's a blessing because you know that what students are hearing in their headphones will translate anywhere else, and that's a real asset when teaching.'