Alongside its elite recital spaces, Boston's New England Conservatory (NEC) has offered music recording facilities and services since 1969. Today, its AV Services department, headed by Lisa Nigris, continues to provide recording, archival and production facilities to the faculty and students across the campus, and is growing as new technological advances open doors to new capabilities.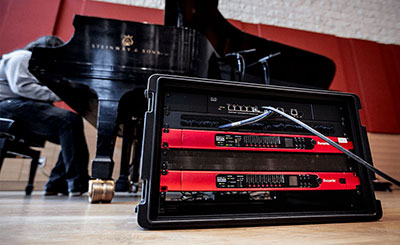 Listed on the National Register of Historic Places and considered to be one of the best-sounding concert halls in the US, Jordan Hall is the century-old performance space at the NEC's centre. Other venues around the school cater for everything from chamber recitals to contemporary performances. NEC's reputation is reinforced by the calibre of past students, including Nat King Cole, Coretta Scott King and Bernie Worrell.
Central to its technical mission is an expanding Dante networking infrastructure and a robust complement of RedNet Dante-networked audio converters and interfaces from Focusrite.
The campus-wide Dante-based audio-over-IP system allows AV Services team members to control, monitor, record and archive audio from any performance space using any networked computer on campus. 'NEC's faculty and students are endlessly creative,' Nigris notes. 'It's our job to support their vision and capture the performances without them even being aware of the sometimes herculean effort going into that support.'
Nigris' team comprises four professional recording engineers, whose day-to-day tasks range from recording NEC and rental concerts, supervising 23 student engineers on student recital recordings, mixing operatic performances and providing FOH and live recording production services for the many ticketed concerts that take place after school hours.
The path to Audio-over-IP began in Jordan Hall, when noise and random interference began to trouble the analogue lines as the copper cable installed in 1995 degraded. The AV Services team needed a solution. 'It was the summer of 2013, around that time that Dante was starting to take off,' says Nigris. 'Our first RedNet installation was January of 2014.' The team's immediate goal was to build a system that would circumvent the analogue cabling issues, but they also had their eyes on the future: expanding the Dante infrastructure to a new building across the street, set to open in 2017.
'The idea was to replace the existing analogue infrastructure with the thought that, if it works well, we can expand – so Jordan Hall was definitely a test case,' NEC Senior Engineer Jeremy Sarna recalls. 'In making the decision, we wanted to make sure that it was something that we could implement everywhere.'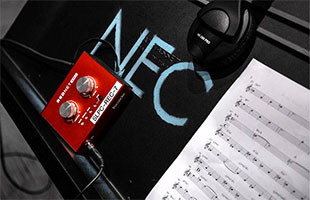 To interface with the Dante network, Focusrite units were among the first tested. 'I was thrilled to discover that, not only was I impressed with the sound of the RedNet gear, we also knew that it was going to do what we needed it to do.' Nigris says. 'The first Dante units that went into NEC were Focusrite RedNet 1 [8-channel ADDA converters], RedNet 3 [32 channel digital I/O], RedNet 4 [8-channel mic preamps] and RedNet PCIe cards, all from the first generation of the RedNet range. When this installation was completed, we were all impressed with the results.'
Since then, the team has expanded the size and capabilities of the network in multiple phases. RedNet units were installed in the other performance spaces that occupy the wider Jordan Hall building, such as Brown Hall, the Keller Room and others.
'Burnes Hall, across the corridor, has fewer analogue lines but plenty of data jacks so we can accommodate all of the needs by bringing our mobile racks with all of the necessary gear, without installing extra cabling,' Nigris says.
As a result, Burnes Hall and Eben Jordan share a single RedNet 4, which powers their permanently installed hanging mics (which are in every performance space on campus) and makes them available on the Dante network.
This ability to scale the system up on the existing campus-wide infrastructure has enabled AV Services to hire and train student engineers to record the many recitals and some department events. Hannah Antolin and fellow engineer Alex Lisowski work closely with student workers, who are given limited access to channels and preamp controls depending on the space they are working in (and, crucially, to avoid accidental audio re-routes).
The system's ease of use simplifies the recording process for typically non-technically-experienced students, and it allows members of AV Services to diagnose problems and troubleshoot from a distance. 'We could be anywhere on campus and be able to grab a laptop and pull up Dante Controller and RedNet Control, and be able to see if a student was having problems, remotely, so we can help them out with it,' Antolin elaborates. 'This comes in handy for us, so that we can keep doing what we're doing and make sure our students are also doing well. The ease of all of this stuff for them really helps things go smoothly all of the time.'
As of 2019, the team is considering the pending expansion into video that Audinate promises with Dante AV: functionality that would be the missing puzzle piece to video capabilities that already take advantage of the audio-over-IP network.
'Things are getting easier in terms of how much infrastructure you need to support video,' Antolin says. 'All of our video is going over IP into our recordings, it's just not using Dante yet.'
The team creates HD video archives with embedded 48kHz, 24-bit audio using software that marries the video from permanently installed cameras with audio from RedNet 4 or MP8R mic preamps in each room (via Dante Virtual Soundcard). 'I think that as a team, we're all pretty excited about the possibilities for audio and video and being able to send everything through the same protocol.'
More: http://pro.focusrite.com