The working home of New Zealand-based musician, singer/songwriter and record producer Dave Dobbyn, Red Trolley Studios has recently installed an Audient ASP4816 mixing console as part of a facility upgrade ahead of recording for a forthcoming EP of four songs.
About to enter his fifth decade of music making with no sign of stopping, Dobbyn rose to fame as the guitarist with his first band, Th' Dudes formed with school friends in the late 1970s. Taking centre-stage with his next band, DD Smash, he saw their debut album at No1 in the first week of release. This catapulted him into his career as a solo artist and prolific songwriter, and today he holds the most Silver Scroll Awards for songwriting.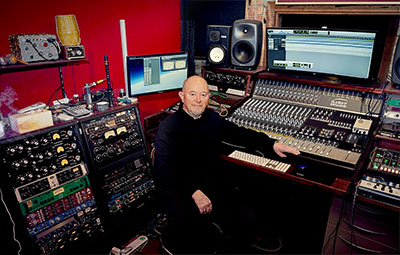 His song 'Slice of Heaven' spent eight weeks at No1 in New Zealand and four in Australia, and in 2001 he was given a lifetime achievement award by the New Zealand recording industry. Eighteen years later, he is still troubling the charts.
Indeed, his new Audient desk along with his Sono guitar recording interface are already earning their keep: 'I play guitar, piano and bass so I'm thrilled to shape sounds through the ASP4816, and with the Sono recording interface too. Getting great tones to DAW is a rich joy now. Getting good drum sounds is a snap – I'm no engineer but everything sounds fatter when you reprint a mix through the desk.'
It was a video of Pete Townshend using the console that swung it for him: 'I thought, 'should I heed the advice of a fellow deaf guitarist – of course yes'.
'It sure sounds amazing. I have used Neves, APIs, Tridents, SSLs, but this is way up there. I just love the tonality and the harmonics, the punch and warmth. Its versatile design. Definitely the right choice.'
Dobbyn was particularly pleased to get his hands on one of the first Audient guitar recording interfaces to reach the Antipodes too: 'Sono is sublime; I can't quite believe the variety of sounds you can get straight out of the box,' he says. 'The cabinet emulations combined with the valve, drive and EQ are instantly adjustable and very musical. Looking forward to putting drum stems and vocals through it too. But for now it's guitar heaven and write to record some hopefully cracker songs.'
He calls Kerry Furlong, who mixes his band, a huge fan of the Audient: 'He was sceptical at first, but the preamps and EQ blew our minds, as did the compressor. The routing choices are thoroughly designed and we love its complete lack of software,' he says. 'Kerry has a couple of projects ready for mixing, so I'm excited to hear them.'
Alongside two cats and dog Woody, Red Trolley Studios boasts some great outboard, a wide mic and FX collection and QSC PA gear for rehearsals. 'We use Pro Tools and Ableton on Macs and have a hybrid set-up with the glorious centrepiece being the Audient ASP4816. She's jolly British; I've named her Audrey and she loves it here.
'I'm learning a lot from the ASP4816,' he adds. 'It's cool knowing that my new releases will have that magic Audient punch and harmonic colour.'
More: www.audient.com