Currently one of the planet's biggest stars, Billie Eilish is using sE Electronics' V7 MC1 wireless capsule for her vocal duties on her latest tour.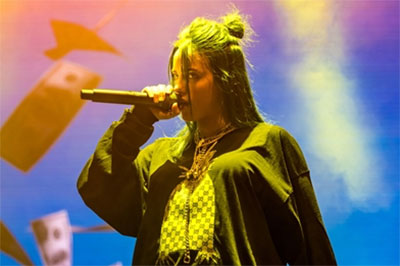 'Right now, we're using the V7 MC1 capsule on Billie,' confirms FOH Engineer Drew Thornton. 'We're also using the V7 X [instrument dynamic] on side snare, and a variety of wired V7s on stage.
The V7 MC1 is a wireless capsule version of sE's V7 handheld dynamic, intended for use with compatible Shure transmitters. sE also recently released the V7 MC2 capsule, expanding the V Series line-up for compatible Sennheiser transmitters.
'I came onto this tour knowing that Billie is a really quiet singer, and I wanted to bring in a mic that not only had the least amount of noise, but also a pleasant sound, something that had good stage bleed as well as good off-axis bleed,' he says.
'It's a breath of fresh air to have a mic that is not only a dynamic capsule with great rejection, but to also have a very smooth high-mid response with a nice airy top end makes it a force to be reckoned with. It also responds very well to cupping, which is helpful in maintaining a more consistent vocal tone. I am a huge fan of the V7.'
Thornton says he's continually doing shootouts to ensure the best mic is always chosen for the job: 'It was an exponential difference to go with the V7. It was the strongest mic by far. And I'm going to keep shooting mics out until we find anything better, but right now it's the front-runner by far.'
More: http://seelectronics.com