Stoke Mandeville Hospital Radio has installed a new Dante-connected transmission rack I/O with silence detection/switching using technology from UK Broadcast manufacturer, Sonifex. The company has also donated studio distribution, monitoring, and switching equipment to help kick-start the hospital's FM band broadcasts.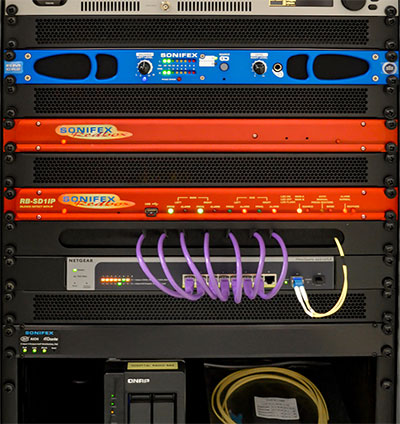 Stoke Mandeville Hospital Radio has been on-air since its first jingle was played out in 1978, and in 1997 it was one of two hospital radio stations to take part in an experimental AM transmission pilot scheme. It has operated in that band since then, until earlier this year when it started a new FM service.
'Modernisation of the hospital site has meant that the propagation of that AM system reduced,' explains Simon Daniels, who is the station engineer and chairman , as well as Director of broadcast services company, Sigma Broadcast. 'As we don't have a hospital-wide bedside system, we made inquiries about an FM licence, and we were very pleased to announce the new service at our station's 40th anniversary party, late last year'.
This change meant that Daniels had to invest in a new transmission chain to replace the existing mono RF link. He decided on a fibre-based extension to the station's Ethernet network, which would allow him to position a transmission rack close to the aerial while still being able to monitor and control all of the equipment from any remote location. For audio transport, he chose Dante Audio-over-IP networking and Sonifex Dante I/O.
'I knew Sonifex had the new Dante boxes with Power over Ethernet [PoE], so we went for the AVN-AIO4 four-in / four-out version,' says Daniels. 'It's simplicity itself. – you literally plug it into the network and Dante Controller finds it. You name your connections, make your crosspoints, and that's it. I also knew that if I bought the Sonifex boxes that they would work from day one. They've got fantastic sonics and great build quality.'
Daniels made sure that the power of IP was put to work in the rest of the rack too. As part of the back-up systems he installed a Sonifex Redbox RB-SD1IP Silence Detection Unit that includes USB drive and external player-based programme replacement, along with a browser-based GUI for remote monitoring, configuration, and control. 'That's a great new box,' he says. 'Not only does it give status over IP, but you can now remotely control the sources. If I need to work on the server I can force it to switch to the local USB stick and switch it back when I'm done.'
Additionally, he has IP monitoring and control of the rack's UPS, power management, temperature status, and transmitter unit. There's even a Raid NAS drive in the rack so the station has off-site back-up of its server and associated data.
As a long-time supporter of Stoke Mandeville hospital, Sonifex donated additional equipment to the studio: Two Redbox RB-DA6 six-way audio distribution amplifiers, an RM-CA2 Confidence Monitor, and an RB-OA3 three-Studio on-air switcher. 'We're very grateful to Sonifex for that,' says Daniels. 'The company has a been a long-time supporter of our station, and hospital radio in general. It's been a big boost to our service.'
The new Stoke Mandeville Hospital Radio FM service began transmitting in May this year, with the new transmission rack and studio fibre network link working flawlessly since day one. 'Dante is definitely the way to go,' says Daniels. 'It's so good, so stable, and the new Sonifex boxes are as easy as it gets. I've now even got a return from the silence detection unit in the rack that comes back to the studio via Dante so I can monitor that as well. Doing it with Dante Sonifex was a complete no-brainer.'