London-based live A/V production company JD Pro Sound is currently taking on the UK's theatre circuit with the Frankie Valli and The Four Seasons touring tribute show, Bye Bye Baby, and an Allen & Heath SQ mixing system.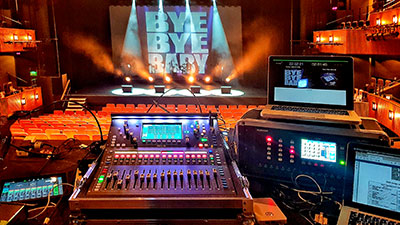 With more than 15 years' experience, JD Pro Sound provides A/V services for live music shows, private and corporate events, and touring theatre shows. Having worked with Bye Bye Baby since 2015, owner and main touring engineer Jay Dimoff has tackled audio needs for the production at 400 theatres around the UK, mixing exclusively with Allen & Heath consoles. Most recently, he added an SQ-5 mixer to handle the current run of shows.
'We've been working with Allen & Heath products since 2015 and we just love every single moment using all these fantastic desks and additional equipment,' Dimoff says. 'In particular, we were very, very impressed with the crisp and precise sound quality of SQ and after working with some other brands' consoles, we can definitely state that Allen & Heath is at the top of the digital live mixer market right now. With 48 processing channels and a 96kHz mix core, we think the SQ mixers are the most powerful in their class, particularly given their extremely compact physical format.'
Bye Bye Baby's production centres around the SQ-5 at FOH, connected via Cat6 to two cascaded and rackmounted AB168 remote AudioRacks placed on stage. All analogue I/O including IEM is handled by the AB168s, with a further digital connection feeding channels to a ME-U hub, which drives the four ME-1 personal monitor mixers used by the band.
The four vocalists also have independent control of their own IEMs via individual iPads running the SQ4You app, freeing Dimoff to focus on the FOH sound. Dimoff further uses SQ's MixPad app (via Mac) for soundchecks and remote control via iPad, while fine-tuning a room before a performance.
The SQ is fitted with an SLink card, providing a secondary intelligent SLink port, which allows Dimoff and his team to connect to other Allen & Heath systems for shows requiring digital FOH / monitor splits or broadcast feeds.
'In general, SQ's workflow is simple, efficient and completely matches our approach as a touring company,' Dimoff adds. 'As a touring engineer, SQ's feature to record up to 32 channels via the USB B port was an important reason to choose this desk as a follow up from Qu and GLD. In terms of additional plug-ins, we currently use the Tube Stage Preamp on our drum mix and it makes a huge difference! We can't wait to get stuck into the rest of SQ's add-ons very soon.'
JD Pro Sound is now looking to invest in the new GX4816 Expander for 96kHz audio from input to output, but plan to team up their AB168s with a Qu-Pac as a self-contained broadcast, recording and compact back-up system.
More: www.allen-heath.com