Sennheiser has made its Pro Talk Series of video interviews with audio professionals sharing insider tips and describing their paths to success available throug a new websire, offering the next-best-thing to 'a one-to-one chats with a leading light in the world of professional audio'. As well as the of Pro Talk videos, the new site also includes articles with key insights taken from the interviews.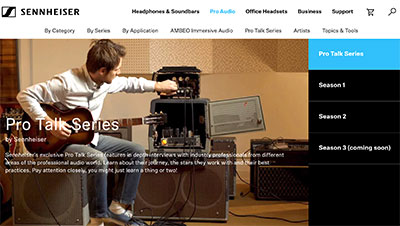 The Pro Talk Series by Sennheiser has already attracted a considerable audience on YouTube: 'The Pro Talk Series is something we at Sennheiser are very passionate about,' says its producer, Marketing Communications Manager Professional Audio, James Capparelle. 'Our intention is to bring audio enthusiasts closer to the magic behind the curtain, so to speak. The collection of these outstanding portraits, and the expertise of the audio professionals interviewed is a unique and valuable resource of information.'
The Pro Talk website presents stories from engineers, producers and other professionals whose passion and expertise has shaped successful careers in music production and live sound. Visitors can tap into insider tips and the expertise, making the Pro Talk Series page an access point to some of the world's most renowned producers, musicians and engineers.
The site provides brief introductions to each individual, allowing visitors to easily browse a broad range of professional disciplines and subject matters before going in depth with each expert in their video interviews.
Pro Talk Season 2 includes interviews with: Axel Reinemer (founder and owner of Jazzanova Recording Studios, Berlin), Blake Mills (musician and producer at Sound City Studios, Los Angeles), Oliver Bloch-Lanié and Nicolas Quéré (La Frette Studios, Paris), Leslie Ann Jones (Director of Music Recording and Scoring at Skywalker Sound, San Francisco), Morten Lindberg (recording engineer and music producer from Oslo), Mousse T (music producer and owner of Peppermint Park Studios, Hanover), Randy Faustino (broadcast music mixer in Los Angeles), Stéphane Reichart (music scoring mixer in Paris), Chris Jojo (Senior Sound Designer at Codemasters, Southam, UK), Christian Peterson (Head of Sound at Cirque du Soleil: Corteo Arena), Brandon Blackwell (FOH for A$AP Rocky's Injured Generation Tour) and Los Angeles-based composer, Simon Franglen.