German event technology company Active Blue recently invested in several dBTechnologies VIO loudspeaker systems, taking 20 VIO L212s, 20 S218 Subs and 20 L208 modules.
With 30 years experience in the market, Active Blue is active Europe-wide, serving corporate events and conferences, concerts, parties and cultural events. The investment adds flexibly to meet customers' requirements.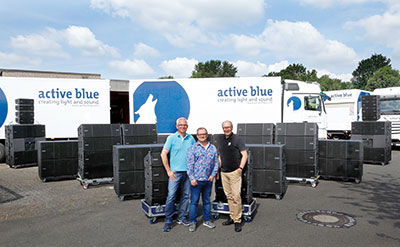 'dBTechnologies has done a tremendous job here and offers a wide range of features that are not available from competitors,' says Active Blue MD, Andreas Beer. 'The rigging and handling of the system are very simple, the networking of all modules with each other is smooth, the automatic recognition of the elements present in the system and of course the integrated RDNet are further, very useful features.'
The VIO system has already seen use at several events, including the 850th-anniversary city festival of Melle, the Sunrise Reggae & Ska Festival and further open-air events in Berlin.
According to Beer, the response to the new system has been equally positive from bands and technicians regarding sound, handling and user-friendliness.
The VIO L212 is dBTechnologies' full-size line array for large sound reinforcement applications. VIO L212 is a fully active three-way system that offers 142dB maximum SPL and is one of the lightest line arrays in its class. The VIO L212, L210 and L208, and the S218 and S318 are aligned in terms of sound, design and appearance.
Thanks to the RDNet interfacing and Aurora Net control software, VIO is easy and precise to set up in live situations. Groupings, room-related EQs and delays are easy to edit, with FIR filtering ensuring acoustic integration.
Bremen-based Active Blue is already looking forward to Bremen's Freimarkt, the largest funfair in the north of Germany, where it will spend two weeks in the music hall.