Staged in San Francisco's Golden Gate Park each August since 2008, Outside Lands ranks among America's premier music and arts festivals. Since its inception, the main stage has used a Meyer Sound system supplied by local rental company UltraSound. This year marked the eighth time UltraSound has deployed a Leo Family line array system for the headline acts, which included Paul Simon, Childish Gambino and Twenty One Pilots.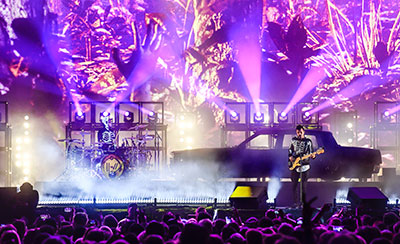 The relationship between the event's sound providers and promoters, Another Planet Entertainment and Superfly, goes back to the beginning of Outside Lands: 'Since it is held right in the backyard for both our company and Meyer Sound, it just makes sense,' says UltraSound Director of Operations, Josh Osmond. 'It's been a no-brainer for us all the way around.'
'In the beginning, when we were carving out roles and responsibilities for vendors, I was insistent on using UltraSound and Meyer for the main stage,' Another Planet Entertainment Production Director, Mary Conde. 'We knew that the quality had to be there, it could not fail, and it had to be great from the first note to the last. I'm happy we made that decision, and every year it just gets better.'
Prior to this year's event, the promoters held several community meetings to address concerns about sound spill into surrounding residential areas. As a result, the system was reconfigured to maintain uniformly high levels across the audience area while better confining broadband sound within the festival boundaries. The main front arrays of 13 Leo over three Lyon-W line array loudspeakers per side were supported by two sets of largely down-firing delays. The near set comprised three towers, each with 11 Leo over three Lyon-W loudspeakers; the far delay system had two towers, each with six Lyon-M over six Leopard loudspeakers. This configuration enabled maximum control of level adjustments, when required.
Rounding out the full range complement were side hangs each with ten Lyon line array loudspeakers (six Lyon-M and four Lyon-W) plus 16 Leopard for front lip and LR front fill. Dual flown gradient arrays of nine each 1100-LFC low frequency control elements joined with 10 1100-LFC elements in a 5x2 ground arc to deliver low frequency punch. VIP areas were served by a mixed inventory of 34 loudspeakers including UPA-1C, UPJ-1P, Leopard, CQ-1 and UPM-2P. The VIP DJ system comprised six Lina line array loudspeakers coupled with four 900-LFC elements.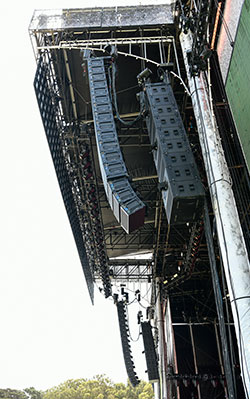 The system was a welcome sight for Kenny Sellars, FOH engineer for Twenty One Pilots, as the band had toured with a similar rig the prior year: 'It's always nice to walk in and see a familiar rig, because then you know what to expect,' he says.
'One thing I always appreciate about a Meyer Sound PA is the self-powered aspect. I can't say enough about the transient response, how fast and tight everything sounds. I mean, when your speaker cable is a foot long, you don't lose much between the amp and the speaker. I can pick out and hear a depth in my mixes I don't always get from other PAs.'
Sellars is also enamoured with the system's bass impact: 'The low-end information I get from the 1100s is amazing. When the kick drum hits, it just slaps you right across the chest. It's everything I've always wanted from subs.'
UltraSound also equipped The Barbary tent, a 'comedy and variety' venue hosting an eclectic mix of acts including Mike Birbiglia, Tony Danza and Jimmy O. Yang. The system here was anchored by eight Leopard line array loudspeakers per side, bolstered by two CQ-1 and four UPM-2P loudspeakers, and with four 900-LFC elements for deep bass.
'The Barbary stage has become a very popular venue,' says Mary Conde. 'We have great stand-up comedians along with a series called Discussions About Virtually Everything. Usually it's one person with one microphone and there's no room for error. It has to be right from the get-go.'
Over the past 12 years, the working relationship developed between the main stage sound providers and the event promoter illustrates a collaborative approach to problem solving and enhancing the audience experience: 'We work closely with Mary and Another Planet on next year literally from the day this festival ends,' says UltraSound's Osmond. 'Every year we strive to improve, and we continue working through the year to make the next Outside Lands even better.'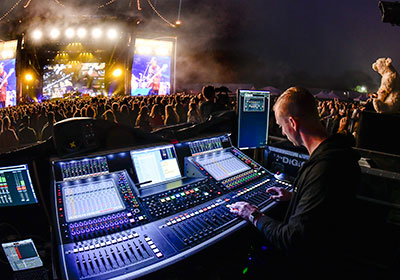 'I'm always pleased by our partnership with Meyer Sound and UltraSound,' adds Conde. 'We bring in Meyer Sound when it really has to be perfect, as it must be at the main stage of our marquee festival.'
A third Meyer Sound system was deployed at the GastroMagic stage, in this case as supplied by McCune Audio/Video/Lighting of South San Francisco. Here, the aromatic mixture of food talk (Molly Baz, Roy Choi) was spiced by music from the likes of Cherry Glazerr, Ella Mai and Adam Duritz. The system here tallied 16 Leopard line array loudspeakers and six 900-LFC elements.
The Outside Lands festival celebrates the San Francisco traditions of excellent and eclectic music, fine food and drink, engaging and extravagant art, and the exploration of new ideas. It takes its name from the far western parts of the city, today including most of Golden Gate Park, that were once largely covered by sand dunes and considered uninhabitable by early settlers.
More: www.meyersound.com