Hosted by Nashville's Bridge Ministry, the annual Rock Child Hunger concert raises funds to feed children suffering from hunger in Nashville. This year's concert, held at Lipscomb University's Shamblin Theatre, included well-known artists including Amy Grant, John Elefante, Donnie Reis and Arielle, with front of house sound handled by Centerline Audio Visual using an Allen & Heath dLive S5000 Surface and DM64 MixRack.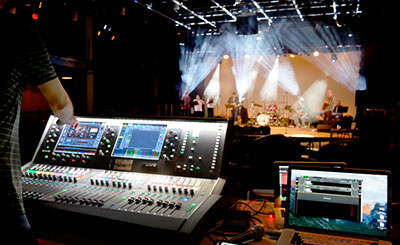 Centerline AV Principal Scott Oliver also manages the popular Fader Jockeys studio and live production podcast: Rock Child Hunger. 'It was an amazing night,' he erports. 'The audience was pumped, the music was "off the charts" and the sound was exceptional.'
Oliver notes that all of the artists used the same band whose core was formed of Nashville musicians from the Oak Ridge Boys. That allowed FOH engineer Jeff Baggett to set up a dLive show file before the concert and simply tweak the settings during rehearsals. Baggett managed each artist's set, with up to 32 microphones and backing tracks, using dLive scenes and layers.
The dLive included a Waves card and a Dante card and Baggett used Waves effects along with the dLive's own internal effects. 'I used a couple of the dLive Deep preamp models and some of the reverbs and delay. All that stuff sounds great,' he said. Baggett, who is also a studio mastering engineer, recorded the Rock Child Hunger concert from the dLive using Waves Tracks Live and said,
'The one thing I was really impressed with is how pristine the tracks were – super clean,' Oliver says. ''The artists didn't show up in time for Jeff to do a proper sound check. But, within a minute after the downbeat, he had it dialled in. It was jaw-dropping, it was so good. And, I had many people come by after the show and tell me how great it sounded. The dLive is just amazing.'
More: www.centerlineav.com
More: www.allen-heath.com