With songwriter/artist Janie Bird (aka Bird), producer/engineer Al Lawson has recently their Southwest London Pop Fiction studio space 'a general revamp' prompted by the purchase of an Audient ASP880 8-channel preamplifier.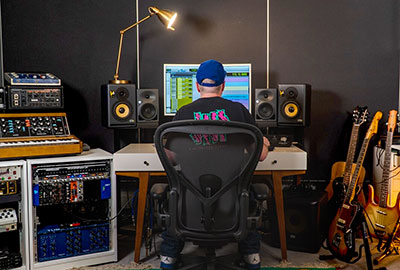 'I love working in big studios, and that's what I find myself doing a lot of the time when I'm engineering for other producers,' Lawson says, who works anywhere from Kore Studios and Lynchmob to any of the Miloco rooms, and on records by KT Tunstall, Lower Than Atlantis and whenyoung.
Tending toward working on rock and pop records in the main, Lawson will turn his hand to hip-hop, metal or jazz.
'Our studio is great for certain records – there are a lot of toys – guitars, amps, pedals, synths, tape delays, spring reverbs. Stuff for musicians to get their hands on and it's very homely – going somewhere else is now more a choice than a necessity.'
Pop Fiction studio comprises a large control room and a live room, and Lawson and Bird were already aware that it sounded great for acoustic guitar and her cello. Then they discovered it had even more potential.
'Janie's 60s Premier drum kit was in there, and we'd do little tom overdubs or demo drums with a couple of mics, and it turned out that the room sounds really cool for drums; plenty of air around the kit but not too clattery or boxy,' Lawson explains. 'It felt like a wasted opportunity not to be able to record drums properly, if they sounded that good. My first thought was an Audient ASP880 to add the extra inputs that we needed and I knew from working on ASP8024s that it had proper professional mic preamps in it.'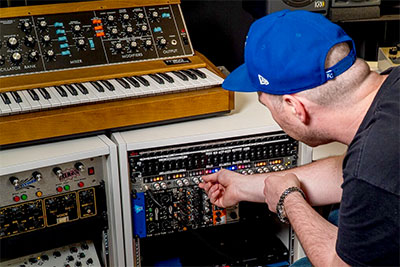 He seems to have the balance right, as the phone is ringing constantly: 'I guess after 12 years enough people trust me to make their record – either engineering or producing. Long may it last,' he says, listing some of the diverse array of projects he's been working on recently. 'I just finished a solo record with Wendy James from Transvision Vamp, a library music album for Audio Network, ongoing work on Janie's new Bird record (with Mike Hedges producing), soundtrack for a new TV series Two Wolves and right now I'm doing additional production and mix for UK hip-hop artist Apex Zero's new album.
'You guys brought over an iD44 for the day a few weeks ago and now I'm thinking what I probably need is one of those and another ASP880,' he adds.
More: www.audient.com