In two short years since the release of his debut album, This One's for You, Luke Combs has distinguished himself as the only artist to have his first six singles hit No.1 on Billboard's Country Airplay chart and become the latest member of the venerable Grand Ole Opry.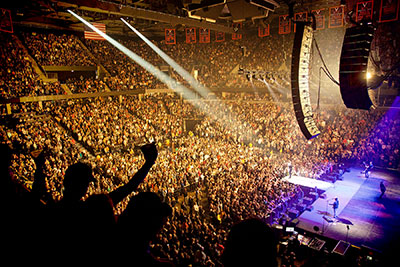 With the first leg of Combs' arena headlining trek selling out every venue, he is currently taking a break before a second North American outing of the Beer Never Broke My Heart Tour, which is being serviced by Special Event Services' (SES) L-Acoustics K1/K2 rig,
'When putting together my production budgets for the 2019 tour, Michael Brammer from SES and I discussed the PA options in their inventory,' notes Production Manager, Jerry Slone. 'When I found out that K1/K2 would fit within our budget, it was a no-brainer!.
'Although I'm currently serving as the production manager on this tour, I've also spent many years working with other artists as FOH engineer, so I'm familiar with L-Acoustics, which made it easy to choose K1/K2 as the rig we'd both need and want to have out with us.'
The loudspeaker complement for the tour comprises 12 K1 elements flown over as many as six K2 down fills per side, with 12 additional K2 per side serving as out fill arrays, plus four ARCS II for side fill as needed. Low-end reinforcement is delivered via a dozen KS28 boxes in a variety of configurations depending on venue geometry. Three LA-Rak II, each housing three LA12X amplified controllers, provide the power and processing for the K1 and KS28 enclosures, while three LA-Rak, each housing three LA8, drive the rest of the L-Acoustics system.
SES System Tech Joe Lefebvre led the system design for each tour stop using L-Acoustics Soundvision 3D simulation software. 'I pre-planned every show I could with the Soundvision room data files that I had access to, and Vic Wagner [L-Acoustics Application Engineer, Touring] was super helpful in hunting down any room drawings I did not have,' he says. 'Having the files gave me a great head start on how I wanted to deploy the rig, and Soundvision's new Autosolver tools are really nice. I've had particularly great results with the Autosplay and Autofilter features, which very quickly get the arrays to cover the whole audience evenly right out of the gate without me having to tweak much. The FIR filters and Air Comp especially make tuning the rig a breeze and allow the system to throw energy where we need it and minimize it where we don't. Even at the farthest distances from the arrays, we can still provide exceptional clarity and a full-bandwidth concert experience.'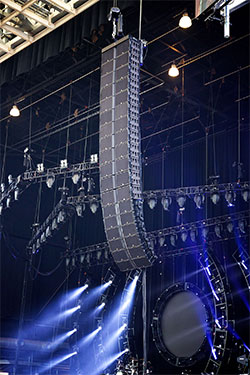 Paired with a DiGiCo SD12 desk at front of house and SD-Rack loaded with new 32-bit input cards, the loudspeaker system's smooth setup and tuning process translates into FOH engineer Todd Lewis' experience: 'We heard very positive comments from a lot of people on the sound during the first run, including from country star Mark Wills, who told me that he could hear every detail of every instrument, and could close his eyes and know where every player was on stage,' Lewis recalls. 'I couldn't ask for a better compliment than that'
'Prior to starting with Luke in 2016, I was primarily a festival guy, and a production manager at The Orange Peel in Asheville, North Carolina,' he continues. 'I had limited exposure to L-Acoustics up until we landed spots on some of the larger festivals, including Stagecoach. After having my ears on K1/K2, I knew it was the right choice for us.
'Luke's show demands power; not just sheer volume, but the ability to actually move you. The production isn't particularly loud – 102dbA max – but when we do go for it, we hear comments like, "that was one of the most physically aggressive shows I can remember being at". When I first heard this from a system tech, I wasn't too sure I liked it. But I now know what he meant, and that it was a very positive thing.'
From a logistics standpoint, Lefebvre appreciates the efficiency of K1/K2's rigging and portability: 'We have a great workflow and always get the PA up in a timely manner,' he says. 'It's definitely the quickest PA to get up and down that I've worked with, so zero complaints there. Loading out the rig takes about an hour, or less, which is very acceptable, and the PA's modular design can always be configured in a way that works very well for us.'
The tour's production manager agrees: 'In addition to high fidelity and even coverage, regardless of the configuration, the ease of getting the rig up and down each day helps to keep the tour's production schedule on schedule,' says Slone. 'The system also packs nicely in the trucks helping, again, with time and budget. The L-Acoustics system sounds amazing, especially in the hands of SES as our sound reinforcement vendor and our great audio team using the tools available to them to make each show a success. It's been a 'win-win' so far, and we're excited to carry it out again on the next leg of the Beer Never Broke My Heart Tour.'