Carl Tatz Design recently installed a PhantomFocus MixRooms in Tacoma, Washington, for the Gospel Outreach.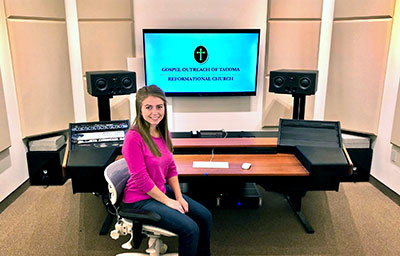 Housed in the (GO)'s newly completed facility, the PhantomFocus MixRoom will play an important role in instructing the church's young students in the recording arts and various media projects. 'The PhantomFocus MixRoom that Carl designed for us was way beyond our expectations,' says GO Tacoma's certified Pro Tools instructor, Gloria Hicks. 'It will be a great place to train new students. We're going to enjoy using it for years to come.'
The PhantomFocus System monitor tuning protocol promises world-class monitoring, no matter how modest the room may be. The system allows any monitors to perform at maximum accuracy with a 20Hz-to-20KHz frequency response and sharp imaging. There are approximately 50 steps in PhantomFocus System implementation, including phase alignment, system damping, speaker decoupling and isolation mounting, assessment of engineer/speaker placement relative to primary axial room modes, proprietary laser-calibrated speaker distancing and angle alignments, digitally-controlled crossover points and slopes for filtering, and proprietary multiband parametric equalisation.
Hardware solutions can include monitor stands, concrete, Sorbothane and other isolation and damping materials, custom floating plenum mounts, subwoofer systems and custom digital processors.
The evaluation and implementation is a full two-day process and can be applied to close-field, mid-field and large soffit-mounted monitors, regardless of manufacturer. Carl Tatz Design (CTD) installs the system in existing control rooms as well as studios designed and built from the ground up by CTD.
GO Tacoma will collaborate with GO Media in Olympia, Washington, via cloud-based Pro Tools sessions as well as affiliated facilities involved with the church.
'Carl and his team did a great job of designing and installing our PhantomFocus MixRoom. It looks and sounds amazing,' says GO Tacoma Recording Department Head, Joel Hicks.
More: www.carltatzdesign.com