The Warehouse Sound Services provided the audio for the Edinburgh International Festival's opening – LA Phil at Tynecastle celebrated the start of the 2019 event was attended by a capacity crowd of 15,000 people.
The LA Phil brought authentic gleam and glamour to the grandeur of Hollywood film scores in this year's opening on a stage replicating the Hollywood Bowl – where the LA Phil famously perform every summer – created in Tynecastle Park, the home of Hearts football club.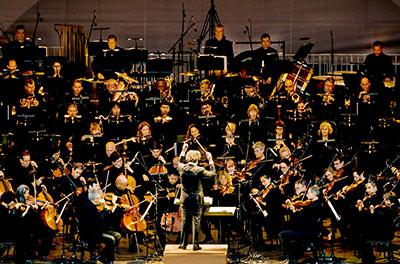 The performance featured classic movie music from the Golden Age of Hollywood by Korngold, Herrmann, Waxman and a selection from renowned film composer John Williams. During this epic free family friendly concert, Gustavo Dudamel and his orchestra took over the stadium with music from Star Wars, Harry Potter and the Philosopher's Stone and ET the Extraterrestrial.
As a key supplier to the festival, The Warehouse provided the sound for the event, commissioned by the Head of Technical John Robb and Technical Coordinator Callum Howie.
Front of House sound was mixed by hire manager and sound engineer Douglas Martin, who had flown to Los Angeles the previous week to attend a performance and meet the orchestra at The Hollywood Bowl. Douglas has extensive experience of mixing orchestras and works for many leading producers worldwide. He was joined at Tynecastle with crew from The Warehouse consisted of Aidan Thomson, Graeme Brown, Simon Meadows, Marc Freeman and Kieran Blair.
The Warehouse has worked with the Edinburgh International Festival for nearly three decades. Each year's opening event is more ambitious and challenging than the the last. This year, The Warehouse provided an Adamson loudspeaker system. The system consisted of E15 line array loudspeakers on main left and right hangs, S10 loudspeakers for under hangs, S7 for front and side fill, and E119 sub bass loudspeakers all powered with Lab.gruppen amplifiers running Lake processing. The show was mixed on a DiGiCo SD10 console. Microphones included more than 60 Neumann KM184 as well as a selection of DPA, Shure and Sennheiser.
'We knew right from the start what a very special event this was going to be,' says The Warehouse Director, Derek Blair. 'The LA Phil are a really exceptional orchestra with a very talented and charismatic conductor. For this unique event the sound had to be equally spectacular, I think this was achieved very successfully with Douglas mixing the sound and the Adamson loudspeaker system. The Opening Event always puts a huge spotlight on Edinburgh, it's a world-class event that we are so proud to be part of.'
More: www.warehousesound.co.uk