Staged in Burtenbach, Germany, the Sunrise Reggae & Ska Festival began as two friends' desire to a reggae music party or a concert and to share it with others. This year, the three-day open-air event took place for the thirteenth time and attracted more than 5,000 visitors. With a star-peppered programme from all over the world, Sunrise is now one of the biggest reggae events in Germany.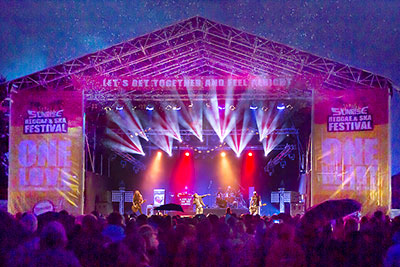 Since 2018 event service provider Horst Enderer and his company Miet-PA have been in charge of the festival sound equipment. For this year's edition, he extended the PA with a dBTechnologies VIO L212 system to deliver relaxed sounds at the main stage.
'Because of the very close personal relationship with the organiser duo, we have been looking after the Sunrise Reggae & Ska Festival for two years now,' Enderer says. 'Our commitment is really matter close to my heart. We have been dBTechnologies users for almost 20 years now, and the PA has once again provided enthusiastic festival visitors here. The VIO system and its components are all made of one piece and work together perfectly, which makes working with it very pleasant. The response was positive, not only from the audience but also the bands and mixers, an important point when thinking about the perception of a festival.'
For the main stage, Enderer's team flew two hangs of eight VIO L212 modules, plus 16 VIO S218 subs (a row of two layers of four), with eight VIO L210s placed on top of the subs for front fill. Two rows of two VIO S118 and two L210 were used as in fill. For stage monitoring, eight DVX DM12 and six DVX DM15 were placed on stage, with drum fill comprising two Sub 18H elements and a single Ingenia IG3T. An Ingenia IG3T provided the sound at the FOH spot.
More: www.dbtechnologies.com